Even if you live a thousand miles away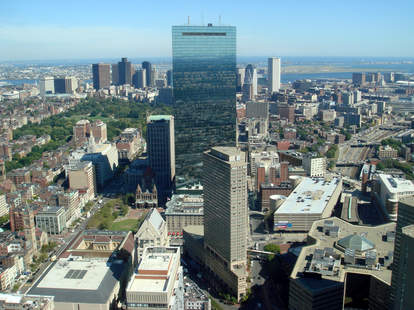 Photo: Bobak Ha'Eri via Wikimedia Commons
Everyone's week got off to a horrible start when two bombs detonated near the finish line of the Boston Marathon. Since then we've seen incredible people like this former Patriots lineman or this cowboy Samaritan lend their support firsthand. And while you might be a six-hour plane ride from an MA blood drive, you can still help the people of Boston in plenty of ways
Thanks in part to some superhumans who ran right from the race to the hospital to donate blood, the Red Cross is more than equipped to care for the victims. But you can help with future emergencies by giving money or scheduling a blood donation here. You can also register for one of their first aid courses, and tell everyone you're practically a doctor.
The Salvation Army has two mobile kitchens going for emergency responders and families, so you could throw some cash their way.
The techies over at TUGG (Technology Underwriting Greater Good) are collaborating with the mayor's office, Red Cross, and area hospitals to find the best places to distribute donations. Check out their fundraising page.
Speaking of hospitals, you could also help out the local ones with victims in their ERs, like Massachusetts General Hospital.
The good people at Brigham and Women's Hospital have treated at least 31 of the injured.
Beth Israel Deaconess Medical Center has also been providing emergency care.
The Boston Medical Center has been treating victims ranging from five to 78yrs old.
Also fighting the good fight is Tufts Medical Center.
Finally, there's the Boston Children's Hospital, which will take some new Dr. Seuss books or LEGO sets along with monetary donations.
If you'd like to make a more symbolic sign of solidarity, you can join the #RunChat call to wear Boston Marathon colors of blue and yellow when you go jogging this week.
Some Etsy vendors are selling goods with a portion or all of the proceeds going to organizations helping the victims. For example, there's this Boston cream pie charm.
Or you can order this "prayers for Boston" keychain.
Tape over your "Phish rules" bumper sticker with this "We Remember Boston" one.
Make your arms 85 percent more patriotic with these running arm sleeves.
Obviously you're worried about your friends and family in the city, but text or email them for updates. Calls will continue clogging the phone towers, and those really need to stay open for the police and emergency responders.
If there are other ways to give that we've forgotten to include, please leave details in the comments!