When you buy a woman the wrong gift, she pretends to like it for a hot minute then trades it in for what she really wants. When you buy a guy the wrong gift, he pretends to like it forever even though it's perfectly obvious he despises it. Solution: grab the right gift from this RedEnvelope lineup covering Work, Play, and Travel. Whether you're buying for your brother, buddy, boss, boyfriend, dad, dog psychologist, or self, you really can't choose poorly.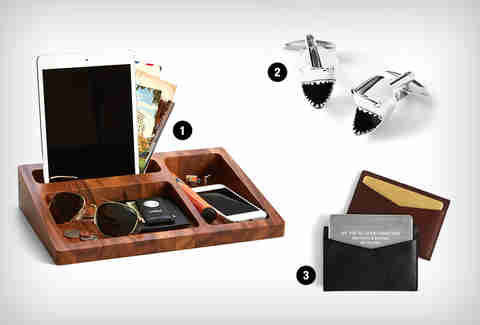 Get the gear: 1. Wood Tray Valet 2. Zaunick Shark Cufflinks 3. Leather Card Case
Work: A classy desk organizer is essential for power desk organizing. Shark cufflinks are the best way to say, "I admire your business acumen" and/or "I admire your dedication to Shark Week". And a card case with a monogrammed steel plate is essential for power networking!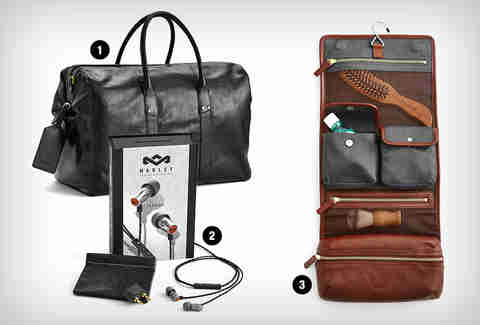 Get the gear: 1. Leather Doctor Bag 2. House of Marley Legend In-ear Buds 3. Leather Travel Case
Travel: A leather doctor's bag will let everyone know he's a member of the most honorable profession: Carriers of Stylish Bags. A gentleman's travel case will ensure he stays professionally groomed, while House of Marley ear-buds -- made by a son of Bob who also played football at Miami -- will ensure he doesn't have to listen to whatever poorly groomed schlub sits next to him on the plane.