Arm your crib with a handsome digital doorman you control from afar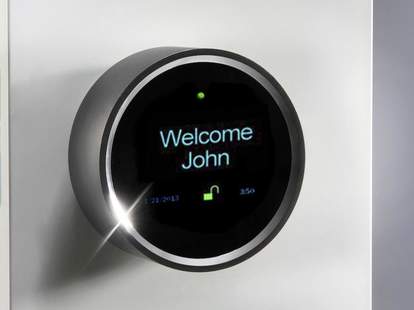 Giving you full control over access to your home from anywhere in the world via smartphone, the Goji Smart Lock's a new keyless entry system that combines several features found in similarproducts, but in a much sleeker and handsomer package.
Like other tech'd up locks, it allows you to set up both permanent, temporary, and one-time "keys" on certain peoples' phones via their phone number (perfect for everyone from family members to housekeepers/dogsitters/contractors), but it provides stepped up security thanks to a built-in camera that'll send a photo (if you'd like) of whoever's gaining entry the instant they attempt to, also known as "every teenage curfew-breaker's worst nightmare".
The easily installable, Apple level-sleek gizmo fits over standard existing deadbolts, and even features an integrated scrolling text LED screen that greets each person by name upon entry. And, should you misplace your cell phone, it comes with a couple keychain fobs that can be programmed to lock/unlock the bolt, and also an old-school key should those go missing as well.