Editors' Picks: Every bag you need
If you have to carry different-sized things and feel the need to adhere to a fashionable aesthetic, you'll need a few good bags. A messenger will easily tote your laptop and docs to the office, a weekender is right for that quick getaway you've got planned, and backpacks will always be welcome at a friend's place or in the park. We diligently picked our favorites and set 'em up below for your perusing pleasure, but click through to the whole collection to bag up your own refined taste.

For something a bit more rugged, but just as handsome, J. Campbell's pack is a dual-strapped, leather-trimmed option constructed from waxed canvas and that won't disappoint in the workplace or the woods.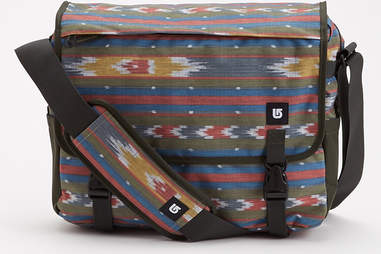 Burton's known for its quality sports gear, and this messenger is no exception. It's got plenty of padding and pockets to keep your various affects secure in your adventures, and its Aztec pattern will proudly proclaim your love of… herbs — you know, the kind for cooking.


This Andrew Marc messenger, like Uncle Jessie, showcases a well manicured but rough around the edges look, made possible by its full-grain leather construction, antique-finished hardware, and inability to form a successful rock band.
The quintessential messenger. Not only is it crafted from 100 percent leather,  but the Cruz also features a removable laptop sleeve, ample storage space, durable burnished hardware, and a price point so amazingly unbelievable it should have its own segment on Rob Dyrdek's show Ridiculousness.
Bright colors mean you won't lose your luggage in the fray at baggage claim, and the smaller size means it's easy to sling and stow.
Just because your fanny pack hails from '92 doesn't make it a classic. This Of All Threads holdall on the other hand comes correct, decked out in navy and brown and brought to perfection by its durable polyester lining, this carrier is sure to have some longevity in your luggage pile.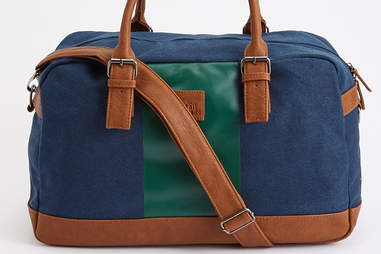 Sporting a retro green stripe and sophisticated leather accents, this is an obvious choice for hitting the pool, beach, Cuba, or any sub-tropical environment where Panama hats are generally accepted. Forgo business with this one — it's strictly pleasure.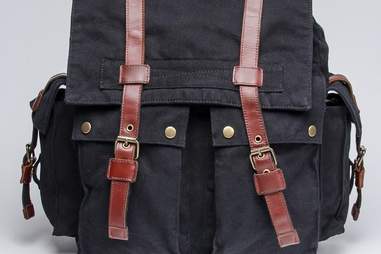 Plentiful pockets and casual canvas make this a go-anywhere, do-anything kind of bag. Good looks don't hurt.