12 Ways to Look Great This Summer Without Breaking a Sweat
All photos courtesy of Lord and Taylor
The sweltering season is fast on approach, and every man -- from the averagely sweaty to the "wrestler trying to lose 8lbs before the match" sweaty -- needs to be prepared for it. That's why we hit up Lord & Taylor for outfits that will keep you looking handsome as eff while staying (physically) cool and approachable.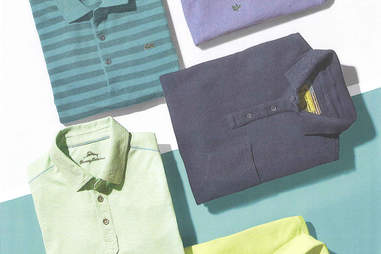 Bring variety to the party (Lacoste, Original Penguin, Nautica, and Tommy Bahama), with shirts designed to breath -- particularly those Lacoste numbers in light cotton piqué.
The Marc by Marc Jacobs line straddles "fancy" and "functional" with affordable shades in rectangular-frame, aviator, and round-frame, which means you can pick up multiple styles and don't have to be ol' Johnny One-Frames.
Going for a run under the 90-degree sun is ridiculous! But you have to do it when you've subjected your body to something even more ridiculous the night before. The Calvin Klein Performance Chevron t-shirt and light mesh shorts are just the beginning of the sweat-wicking, air-flowing exercise gear available to you.
Summer nights still get chilly, so instead of that ironic collegiate crew neck (we all know Kevin didn't go to Dartmouth), go for a Weatherproof terry sweatshirt for a light extra layer that'll do the trick no matter what tricks Mother Nature throws your way (hint: it's rain).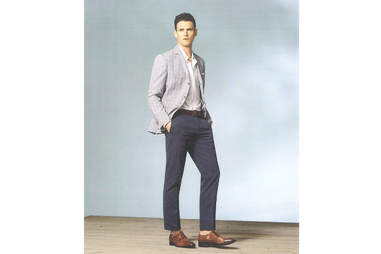 Black Brown 1826 -- an exclusive Lord and Taylor line -- features a light chambray blazer in an even lighter powder blue. And of course, the linen flat-front pants are plenty breezy as well.
When it comes time to rock a suit (summer weddings, so fun except the ones that aren't!) these shoes will keep you light on your feet, literally. According to Cole Han, the perforations were originally designed to drain water after a walk through the bogs in Scotland and Ireland, but now they let the air flow, and supply ultimate comfort with the cushioned ZerøGrand Technology.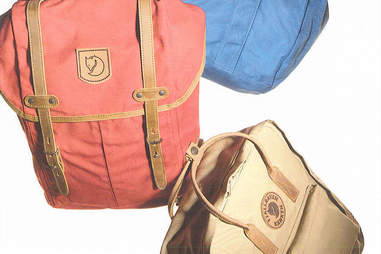 A light, convenient messenger or duffel is key for a grab-and-go summer existence. The Fjallraven duffle and the Foldsack messenger will be your new best friend. Your dog will be insanely jealous.
The Brooks Brother Red Fleece drops the pesky sleeves, leaving one's arms decidedly more tan. This one comes in navy, and paired with Hibiscus-print chambray shorts, it's the perfect laid-back schlubbing-around Henley.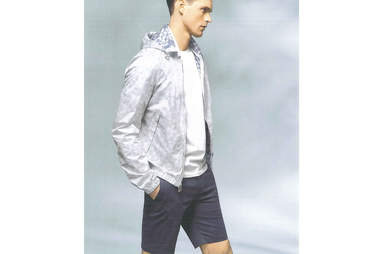 Light rain? Sudden breezes? Spilled wine coolers? This durable nylon jacket from Michael Kors keeps your t-shirt reasonably dry and it has a quirky floral pattern to turn your inner trendsetter into an outer trendsetter.
These designs are so versatile (striped volleyball trunks, Penguin all-over patterns, etc.) that they can be worn as incognito shorts right up until the moment "cannonball!" is shouted and "Seriously? Cannonball?" is replied.
Score one of these John Varvatos zip-pocket moto jackets and some Bower slim-fit jeans to stay super-cool even when everyone else insists on wearing, like, salmon everything.
Black Brown 1826's short-sleeved linen sportshirts come in a whopping 17 colors, a lifesaver for anyone whose ability to make tough decisions drops as the temperature rises.