Go on Vacation, Make Awesome Stuff
Courtesy of Craftsman
Courtesy of Craftsman
Craftsman MAKEcation ℠, the vacation that sends you home with mad DIY skills and major bragging rights, is bigger, badder, and coming to Brooklyn in September -- and you could be too if you enter this sweeps (after reviewing the rules, terms, and conditions, of course). Last year's inaugural in Lake Arrowhead, California, featured host Rob Riggle, a live set by Everclear, and an itinerary that ran the gamut from cigar rolling, whiskey tasting, woodworking and survival skills to building a Medieval trebuchet (essential siege apparatus) and a chalice.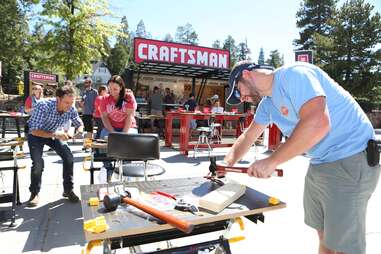 Craftsman MAKEcation ℠ 2015 (September 24-27) will amp up the sweet, sweet "I'm making things with my hands!" experience with more workshops, more surprises, and more opportunities for novice tinkerers and seasoned DIYers alike to wield objects of mass construction. There will be blood, sweat, and tools -- lots and lots of tools.
Participants will wrench on vintage cars, preview Craftsman tool innovations, and work side-by-side with instructors in a suitably gritty Brooklyn warehouse filled with wood, fire, steel and that most hallowed of DIY projects… graffiti?
No, really, graffiti, as this year's lineup includes mixed-media artists Fernando Romera and Mike Baca, of UR New York. Their mission is typically to inspire creativity in young people through photography, silkscreen and multi-technique graffiti, but this time they'll be inspiring it in you as you help create a masterpiece on a faux-brick wall.
Other gurus ready to make you a more able human being include home-improvement expert Karl Champley, who built everything in his own house, including his house -- so he probably knows his way around a toolkit.
Master carpenter Rob North, heroic builder of everything from the golf club marshmallow roaster to the light bulb candle, will also be on hand. Who doesn't need to know a guy who can build a six-pack cooler out of ice? Soak up his knowledge, and by the end of the weekend you might be that guy.
Oh, and forget lunch-and-learn: Sideshow performer Adam RealMan will regale Saturday night dinner with his "One Man Coney Island Sideshow," which entails sword swallowing and amazing feats of strength.

In summation: cool story bro, but did it involve wood, steel, fire, and… sword swallowing?

Enter the sweeps to attend MAKEcation here.
As a loyal reader, your opinion is more important to us than oxygen, or hydrogen even. Please take this quick survey and tell us what you think!