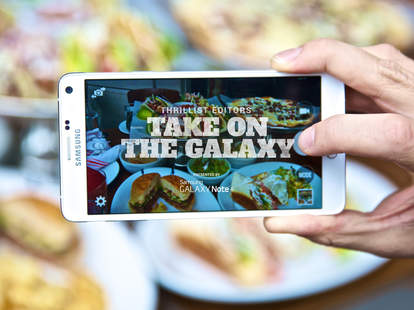 Thrillist editors take on the Samsung Galaxy Note 4
By Thrillist @Thrillist Half the time, being a Thrillist editor is a desk job where you hunch over in a moderately decent office chair for hours at a time totally focused on pounding out copy despite the pressures of your deadline and the distraction of the super-catchy "1990s Mix" someone who doesn't have a deadline decided to put on the stereo. The other half, you're all over the place tracking down the next big thing, and then probably eating it. That takes tenacity, creativity, a large appetite -- and great technology. Because that last part's key to survival in this business, we grabbed a slightly less edible but no less delicious "next big thing", the Samsung Galaxy Note 4, handed it to our editors, and chronicled all the ways it could help them get their world-saving work done and done.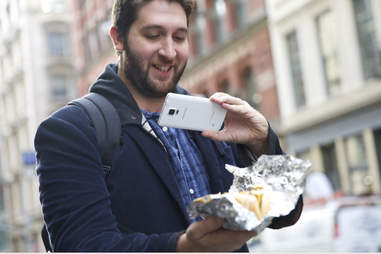 Anthony Humphreys
16MP Rear Camera
NYC editor Andrew Zimmer is the king of food instagrams, which at this point should probably just be called Foodstagrams, or Instafoods. With pro features like ISO and white balance built right into its monster 16MP rear camera, the Note 4 would help Andrew elevate his Instagame to staggering new levels, instantly, no matter who he meats on the street. Continue Reading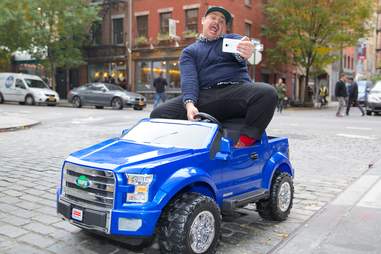 Anthony Humphreys
Camera Optical Image Stabilization
When he's not authoring controversial stories like "Why You Should Stop Tipping Your Server" and "Stop Telling Me Not To Instagram My Food", Senior Writer Dave Infante is leading Thrillist's effort to dominate the SnapChat game. The Note 4's 4K video camera blows away full HD by almost 4x, and, like the suspension in this hilariously tiny car no one's quite sure why we have in our office, the springs built into the camera stabilize the image -- ensuring that even videos that quickly disappear forever leave an impression that will last a lifetime. Also Dave has a mustache, ICYMI.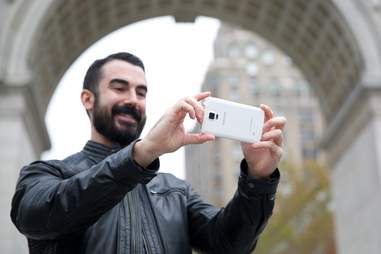 Anthony Humphreys
Camera Wide Angle Selfie Mode
When you're traveling to exotic places filled with exotic settings and exotic people, you can't just take an ordinary selfie -- you need to take a panoramic selfie, probably the most crucial innovation in selfnology ever. But it's not just about the breadth of field. The Note 4 lets you take a full 16MP self-portrait; the phone actually vibrates to notify you when you're perfectly in frame, so you won't end up with nothing but a stunning shot of the top of your head and a palm tree.
Anthony Humphreys
Screen Quad HD Super AMOLED® Display
When the team from our sister site Supercompressor is reviewing games, apps, or anything involving video, they want -- sometimes even demand -- an insanely clear image and lightning fast refresh rates. AMOLED® helps provide this, but Super AMOLED®, shown here cradled in the loving fingers of Joe McGauley, goes one step further and incorporates touch sensitivity into the mix, giving you maximum control over maximum crystal clarity.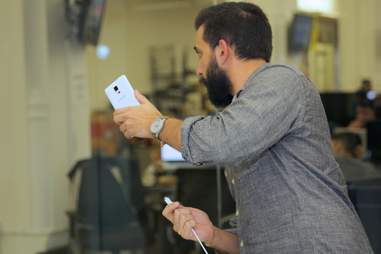 Anthony Humphreys
Adaptive Fast Charging
Sometimes when a Supercompressor editor like Alex Robinson wants to set up an interview with a hugely important celebrity type, the celebrity will stall and stall and then suddenly call up and say "Meet me at this random place that's only convenient to me in 40 minutes". BUT WHAT IF ALEX'S PHONE IS DEAD? WHAT DOES HE DO? The Note 4's Adaptive Fast Charging feature lets him go from zero to 50% battery life in 30 minutes -- or, just enough time to answer the question "What am I going to ask this guy?".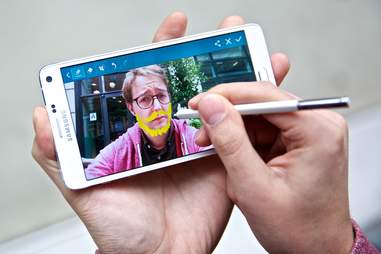 Anthony Humphreys
S Pen™ and Multi Window™
Our National Eat and Drink team is spread out all over the country, and they're rarely at home -- instead, they're in bars or breweries or restaurant kitchens, or at food fights involving 180 people. Effortlessly controllable by the S Pen™, Multi Window™ helps NEDs (that's a cool acronym, right?) like Adam Lapetina work and stay in touch by keeping an email/IM window open while they're taking pics, or taking notes directly on those pics with their S Pen™. Or drawing beards on themselves. Whatevs.


Anthony Humphreys
Removable Battery
During events like Hotel Thrillist (Thrillist takes over a hotel, chaos ensues), Social Media editor Liz Zink needs everything her phone can give to continually update the world via all the social media channels. If all that Instagramming, Facebooking, tweeting, and "other" puts a strain on her battery, no worries; she can simply carry a spare and pop it right in. So simple (so why doesn't everybody do it?).
Anthony Humphreys
Ultra Power Saving Mode
Say you're at a European training course on how to drive supercars on ice through woods filled with wolves (this exists, btw), and you veer off track and find yourself lost in Wolfville. Or someone sends this Zombie Survival Guide to your office -- and events transpire that makes it less hilarious than it is essential. Both of these are situations Supercompressor editors like Ali Drucker could run into.  But if she's got the Note 4, even if she's down to 10% battery life, if she shifts into Ultra Power Saving Mode her phone can last more than a day and still provide her with the basic functions (talk, text, email, browse) she needs to save herself from wolves and/or zombies.