How to make a gift box that keeps on giving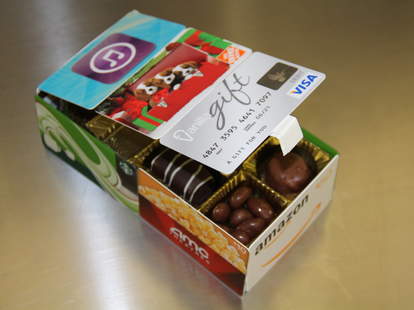 How do you make some last minute drug store-bought items into a gift that's good enough to go under the tree? Buy a bunch of gift cards and follow the steps below.
Important Tip: You must take the cards out of their respective wrapping, otherwise you'll end up with something that looks like the sad construction pictured below.
When this box was presented to a female coworker her look of shock and disgust made it seem like we handed her a dead kitten. When we handed her the final box it was as if we gave her an adorable live kitten...that would run away long before it became an annoying, smelly cat. On with the lesson
Materials Needed:
Nine gift cards. Here's what we used
Two AMC Theatres cards ($10 each)
Two Starbucks cards ($10 each)
One iTunes card ($25)
One Amazon card ($50)
One Home Deport card ($25)
One Visa Vanilla card ($25)
One Bed, Bath & Beyond card ($25)
Other required supplies: One greetings card, one box of chocolates, double-sided tape, scissors, pen/pencil, rule

Step 1: Build The Foundation

--Cut the greeting card in half.

--Use the back half and construct a box that's two gift cards long by one gift card wide. This means drawing margins that were 3/4 of an inch along all four sides.

--Cut four slits--two at each end--and fold the sides up along the margin, while using the four outer tabs to tape the inside together. (Full disclosure: The photo above is one of the deconstructed test boxes.

Use the double-sided tape to tape your gift cards around the outside of the box. The base is now complete

Step 2

Cut a thin strip of paper from the other half of the gift card. Tape the three cards to the paper, then fold the top end of the paper over and tape it to the top of the box.


Fold the extra bit of paper over on the other side to make a little tab for easy opening and closing. Pat yourself on the back. The box is now built.

Take the remains of the card and/or any extra wrapping paper (ours came from the box of chocolates), and line the bottom of the box. This will make it look better than a sad greeting card slashed into pieces and left to die at the bottom of a gift card box

Step 3

Take a tray of chocolates and cut two sets of 2x4 rows.
Take the liner from the original chocolate box and put it over the chocolates, because licking chocolate off of gift cards isn't as sexy as it sounds. (It's waaaaaay sexier.)


Toss a bow on it and you're done. Reward yourself with the remaining chocolates. You earned them.