Live off the grid in this tiny, shockingly efficient cabin
While the idea of getting away from it all by living off the grid for a while sounds charming, in practice you'd probably end up missing the creature comforts of civilization, like hot running water, or Internet p*rn. Now you can have both (just BYO satellite Internet), thanks to the Diogene cabin.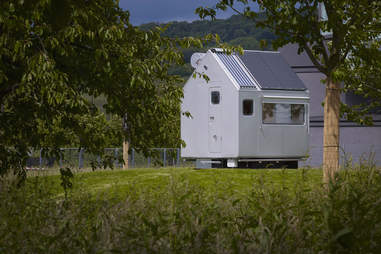 A pet project of the architect behind Europe's largest building (London's "Shard"), the Diogene's a sustainable 81sqft pad outfitted with the type of amenities you'd find in a tiny, tiny apartment, and's easily transported, as it only weighs a couple tons.
Harnessing hot water and electricity via a rooftop solar panel and rainwater tank, it's equipped with plumbing for a sink and shower, and produces enough power to keep the lights, refrigerator, and electric stove running. And when nature calls, just head to the nook adjacent to the kitchen, where the composting toilet's housed.
The interior's broken up into a kitchen and a living space, and's been thoughtfully outfitted with tons of storage, from built-in cabinets in the walls to a large cubby above the kitchen.
And you can take a load off from all the not-work you'll be doing on the living area's built-in sofa-bed, or hang at the fold-up desk/table.