Game of Thrones is back, and we've got the posters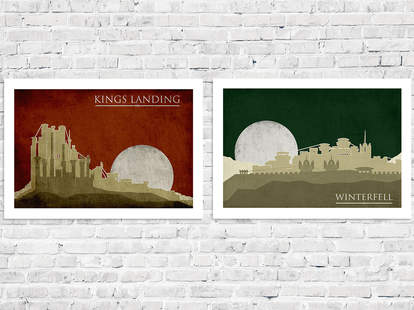 1. King's Landing  2. Winterfell
Movie buff? Binge-watching TV enthusiast? Denialist fanboy who still thinks Ned Stark will make a sudden appearance in the third season? Yeah, us too. And seeing as how Joffery made it to the next round, we've thought it best to corral some prints more solid than the Iron Throne, hotter than Khaleesi...'s dragons, and more creative than Hodor's vocabulary. Check out the picks below and even if you aren't a GoT fan, you'll find something you like. Like Batman. Getting punched. WHAP! 

JUST IN:House Targaryen - $16
WALL ART IS COMING. Actually… it's here, and ready to be on your wall (but not beyond it). Impress dates (not your sister, JAIME), promote your favorite House, and honor Westeros and Essos locales with renderings that'll perfectly match all your best iron furniture.