Here's some canvas art that can really hang
1. Captain America Art Panel B  2. Spider-Man Issue Cover #100
Whether you're a globetrotter, a movie buff, a car freak or you defy description completely, there's likely something in our art collection that belongs on your wall. There's more variety in there than a five minute Tinder session, only you can rest assured our art has been wisely and tastefully curated (and that it'll look the same on your wall as it did in the picture), unlike your potential dates. Check out it out, nerd out, and spruce up those walls, Romeo.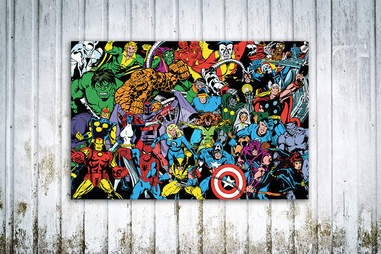 JUST IN:Full Lineup by Marvel - $79
Never mind those DC Comics fanboys — Marvel is where it's at. Who doesn't love a feral Canadian who can't die and has indestructible claws? Or a super soldier named for Freedom itself? NO ONE. These prints feature classic, colorful comic scenes and your favorite Marvel characters. Excelsior!