The most amazing techy toys out of Vegas in 2013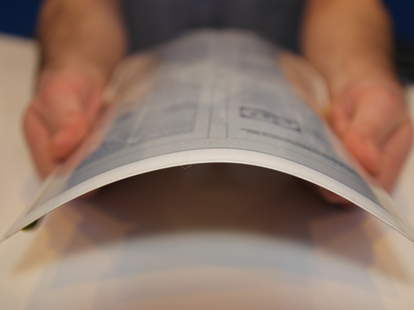 Like so many questionable restaurants and over-aged showgirls, CES has ended its run in Vegas. The electronics conference brought lots of drool-worthy tech to light, and though playing favorites with this line-up is like choosing favorite beers children, we decided to present our five favorite things from CES. Some of these products you can buy today, others are in pre-sale, and some are just a glimmer in the tech gods' eyes. Regardless, they're all seriously slick, and seriously merit your undivided attention
Trakdot Luggage TrackerIf your bag took an unexpected detour, instead of unleashing a Meet The Parents-esque Ben-Stiller-style crazy bomb on customer service you can tell them exactly where your luggage is and get your stuff back in time to enjoy your vacation. Trakdot lets you track your luggage just as easily as you can track your flight. Pack this palm-sized light-weight device in your bag and say goodbye to your luggage separation anxiety.
Scosche boomBOTTLEWho needs hydration when you have jams? Now you can get rid of that pesky water bottle and opt instead for a boomBOTTLE portable boombox. This omnidirectional speaker connects to your iDevices/ Android via Bluetooth and delivers solid sound through its dual 40mm drivers... or "awesome amplifier"
PapertabDeveloped by researchers at Queen's University in Canada, the Papertab is a paper-thin 10.7' tablet that could be available in as little as 5 years. The Papertab is fully app-functional, so it allows you to personalize your PaperTab however you'd like. Powered by an Intel iCoreTM i5 Processor, this tablet is powerful and rugged -- it can be dropped on the floor and won't show signs of damage
HAPIforkBecause you tend to get a little too excited about your leftover lasagna, the HAPIfork is here to help you slow your roll. This electronic fork records each time you bring it to your mouth as a "fork serving" and buzzes when your servings are stockpiling too quickly. After licking any leftovers off your plate, plug the HAPIfork's USB in to your computer to get a read-out of how long it took you to eat, your "fork servings" tally, and the space between servings.
Optrix XD5Designed specifically to endure and withstand the most active, rugged environments and conditions, the Optrix XD5 iPhone case is the ultimate lifeline for any on-the-go adventurer's phone. The case features a built-in wide-angle lens which turns your phone into a live action wide-angle camera so whether it's snowboarding, BMX riding, or white water rafting, you can capture as much of the action as possible.