RoboPop: 20 presents to make your dad part man, part machine, and all gratitude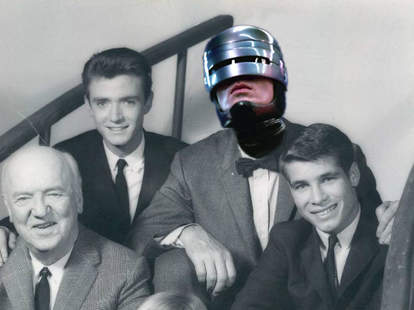 Instead of trying to change your father's habits, help him do what he already loves harder, better, faster, and stronger with these high-tech enablers. We've got something for every dad, even if he's into..
CampingThe BioLite CampStove produces a hearty fire with just a few sticks and leaves, saving Dad from hurting his back by carrying huge logs, not to mention hurting the Earth's back by burning chemicals. As a weird little bonus, its USB-port-equipped thermoelectric module will charge up his phone so he'll be able to text Mom after he manages to burn the tent down with just a few sticks and leaves
Camping Just So He Can Pretend Like He's Pete Townshend Where No One Will See HimThe carbon fiber & flax fabric Alpaca Guitar was designed to be portable enough for the great outdoors, and tough enough to withstand both harsh conditions and your dad's nostalgia
Preserving the Alignment of His Back While Surfing "That Web Thing"Vool The Wooden sounds like Zuul's cousin who lives in Dana Barrett's pantry, but it's actually an exceedingly handsome ergonomic computer stand
Not Having His Stubble Clash with His Dye Job While TravelingThe Shavetech Shaver can be recharged using any standard USB port. Did you know USB stands for "universal serial bus"? That is very weird

Playing LPsThe Crosley Revolution will spin all his old vinyl and let him transfer all that Loggins & Messina to MP3 with its built-in USB port
Dropping His SmartphoneSome dads really do make a hobby out of this. Thank god the Tech 21 Impact Band can withstand his casual fumbling of something that 40yrs ago he couldn't have even imagined existing
Never Getting off the CouchWhat's the point of him having a universal remote if he's got to get up anyway to retrieve that smartphone he dropped over by the bathroom because it might be his college friend "Crazy Karl" calling to see if he wants to grab a few beers and joke about that time Karl did that thing that made everyone start calling him Crazy? The Beacon Universal Remote's actually operated through his smartphone, giving him a reason to keep it on his person at all times
Staying Awake While DrivingHandpresso Auto is a way better solution for on-the-go pick-me-ups than that commuter mug he got in a 1983 NPR fund drive
Showing People "The YouTubes"The Plair streams video from your computer onto the TV through an HDMI port, letting him play "Re: Man Falls Down Stairs!!! FUNNY!!!!!" on the big screen... actually, don't get him this
Golfing + Not Asking DirectionsThe Bracketron is the GPS device for golf carts, providing directions and distances for holes 1-18 (if he didn't already know where the 19th hole was, he wouldn't need this device)
Jamming Out to Foghat OutsideDesigned to withstand the harshest environments, the Braven Stereo will keep his barbecue bouncing for up to 12hrs in rain, sleet, snow, on cliffsides, or in rushing rapids. Does your dad talk about his time in the Navy Seals
Jamming Out to Foghat InsideThe Tabletop HiFi might have a sleek, modern look, but it's prepared to honor whatever arcane input jacks your dad can throw at it
Fishing off the GridEquipped with a powerful GPS, the Earl tablet will still function even after submersion in 3ft of water, so it'll stay a lot dryer than Dad does when he goes fishing
Not Paying Attention to What He's GrillingPlug the CyberQ into a regular grill or even right into a piece of meat, and it'll handle temperature adjustments and even send text or email alerts if a problem arises -- because your dad is great about responding promptly to emails
Being the Consummate HomeownerIf these walls could talk... is a film starring Cher and Demi Moore that your dad pretends he didn't find moving. It's also what he'll get with Twine: a sensor that'll text him if the basement is flooding, when someone less tough than him adjusts the heat, etc
Rocking a Three-Piece... boat, that is. The Mokai ES-Kape is a 100lb, jet-powered kayak that can be assembled in under two minutes and fits in the back of any standard SUV. Oh yeah, and it's also jet-powered. Did we mention jet-powered
Ambiance MicromanagementWhen a dimmer just won't do it, there's the Phillips Hue. A Wi-Fi LED bulb he can manipulate with his smartphone -- or, "smone" -- the Hue can not only be turned on remotely, but can also change color -- either via "light recipes" designed by lightbulb scientists, or by taking color samples from his photos.
Being Cool/HotThe USB Beverage Tender will warm up or cool down any beverage he can throw at it, except the ones he actually throws at it because he doesn't understand how it works
Making Small TalkAny dad can murmur through a "how about that weather" conversation. Let yours assertively declare, "The CO2 index is exceptionally high today," or make a wry observation about humidity trends, or tell you what the noise pollution level is, all with the Netatmo Personal Weather Station, which will send live, hyperlocal weather and environmental conditions directly to his iPhone
Looking at MoneyThe iWallet is made from either carbon fiber, fiberglass, or Kevlar, can only be opened with his specific fingerprint scan, and has its own app that will alert him when the wallet is more than 15ft away from his phone. In short, a thief will have a harder time getting money out of him than you do.