A weatherproofed wireless speaker for your bike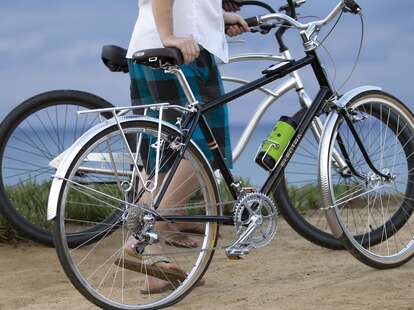 Who needs hydration when you have jams? Now you can get rid of that pesky water bottle and opt instead for a boomBOTTLE portable boombox. This omnidirectional speaker connects to your iDevices/ Android via Bluetooth and delivers solid sound through its dual 40mm drivers... or "awesome amplifier".
Designed with durability in mind, its speakers are encased in a weather/splash-proof exterior which is able to withstand drops or vibrations caused from rough terrain riding, so you can have music to power your next mountain biking excursion. As far as battery life and range, this boombastic speaker lasts up to 10 hours on a single charge and can keep blasting your Summer '95 Shaggy mix from a range of up to 33 feet.