If you can't keep track of who you know, you don't really know anybody. That's the problem Steve Greenwood set out to solve with Brewster. Named for the street Steve grew up on, the app works across all your social media platforms to efficiently organize your millions of contacts, effectively making them Brewster's millions. We partnered up with WD to see how their My Cloud personal cloud storage device might streamline the existence of a guy who's made it his mission to streamline everyone else's.
Steve started working on Brewster before he even realized it. Back in graduate school, he'd make spreadsheets organizing all his contacts from then-new services like Facebook, LinkedIn, and something called "Gmail".
He did this for five years without telling anybody because he thought he might be crazy, but then he found out other people were doing the same thing. This is the office where he and his team write the code that will hopefully make all those spreadsheets so unnecessary, continuing to fill them out really would make you crazy.
That's what these fine young gentlemen are staring at: mountains of code designed to add new functionality to the app. All of that code (or photos, music, videos... any file really) could be stored on a My Cloud, which can handle up to four terabytes of data, but's small enough to sit on a desk, maybe right next to that bottle of Poland Spring.
This is a wooden ping pong table, kind of like the ones the early settlers used to play on. Beyond that is a visual representation of the average modern American's digital relationships. To manage those, Brewster:

Merges contacts from multiple services together
Lets you receive your contacts' latest phone numbers, addresses, etc, once they make an update (i.e., you don't have to do jack)
Accesses all contacts right from your phone's address book, via mail, messages, phone, and contact apps
My Cloud does the same for your digital life, centralizing everything from 1s and 0s to videos. Just as importantly, it makes your files securely accessible by any device, from anywhere. So when Steve makes one of his frequent trips to San Francisco, he can pull up anything he needs on whatever he's carrying using WD's free apps. That makes two apps that could keep Steve's entire life in order.
(Also, did you know that despite not being native flora, there are palm trees all over SF? Now you do.)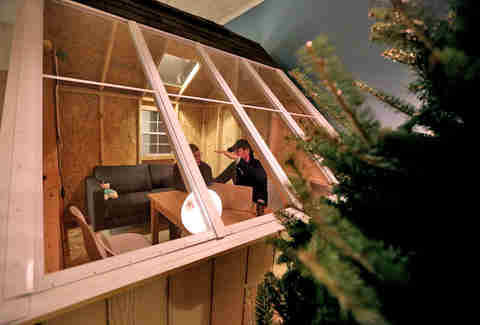 Instead of building a conference room to hold meetings about the new features Brewster is poised to roll out any day now (really, it could be happening right this second), Steve opted for a standalone cabin, which ran about 1/5th the cost of drywall. While a personal cloud storage device that completely eliminates your need for "the cloud" might sound like a pricy extravagance, it's actually more cabin than drywall (in other words, My Cloud is surprisingly inexpensive).
Sometimes Steve uses the cabin to Skype with foreign users about their experience. Because this is the 2010s, you can become pretty good friends with people over Skype. If Steve decided to visit them in person, My Cloud could provide him not just access to his content, but lightning fast access thanks to Gigabit Ethernet and a dual-core processor.
In conclusion: when it comes to the future of social media contact organization -- and the future of digital storage -- the writing's on the wall.