11 Gear Essentials To Cover All Your Spring Needs
All images by JackThreads
All images by JackThreads
We're in that excellent time of year when it's still spring, but summer keeps calling us and saying hot things and then hanging up as if we couldn't figure out who it was. Our brothers at JackThreads have both seasons' gear needs covered from every conceivable angle -- from dress-shoes, blazers, and linen suits to canvas sneakers, henleys, and shades. It was a long, cold, plaid winter. Elevate your style with: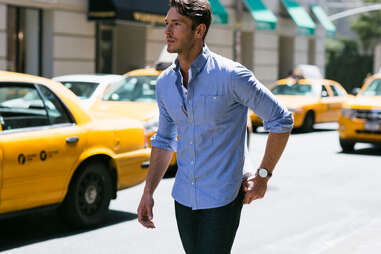 The Ultimate Woven Shirt
Goodale Rutledge Blue Chambray Shirt
An Oxford button-up should be a closet staple the same way bread and ancient squeeze bottles of mustard are kitchen staples. This durable chambray pick is the 'Rutledge', made in-house by JackThreads' private label, Goodale. The material's casual enough to allow the shirt to be worn un-tucked over dark-wash jeans, while the silhouette's classic enough to wear tucked-in with chinos. The power of choice is yours.
The Henley
The henley is the low-key game changer in a clothing arsenal. Beyond being physique-flattering on basically everyone, this classic can be paired with jeans, joggers, and chinos. Go ahead, unbutton it all the way.

Tapered Jeans
Now that you can finally wear sneakers & oxfords again without caking them in mud/dark, wintery sludge whose ingredients you're not quite certain of, throw on some jeans whose cut's designed to show them off. Speaking of which...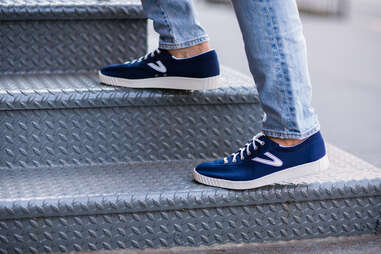 The Spring Sneaker
Tretorn Nylite Canvas

Mankle season is upon us. Keep it simple and comfortable with these fresh canvas kicks that'll look great while you're kicking it in a pair of joggers or rolled-up chinos lounging deck-side at your favorite rooftop bar. Or your favorite patio. Whatever, as long as you're outdoors and there is beer.


The Brown Dress Shoe
Florsheim Castellano Cap Toe Oxford
For this time of year, brown shoes will cover more looks than a black pair. The ultimate everyday footwear, these play dressed-down with jeans, with bright chinos for a semi-casual work-look, and of course, with suits -- especially a navy job. This particular pair of captoe oxfords are hand-burnished for a weathered, vintage look that'll make you look so casually distinguished, doormen will let you up to rich strangers' apartments.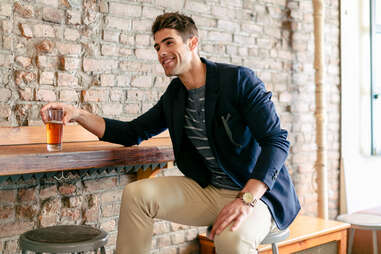 The Casual Blazer
JackThreads' buyers chose this deconstructed knit number not only for its versatility (it would look just as good thrown over a white tee as it would with a shirt and tie) but also for its comfort factor. Though technically everyone's comfort factor is up now that Fear Factor's been cancelled.
The Lightweight Jacket
April showers bring waterproof windbreakers. Avoid neon colors unless you want to look like 1992's most outgoing tourist and opt for the military green of this lightweight K-Way jacket instead.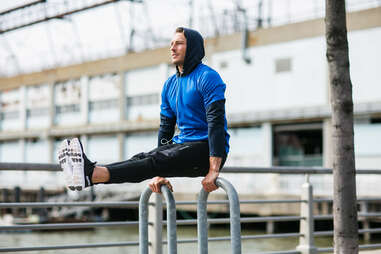 Active Workout Hoodie
Now that the sun is back and your face doesn't look like you starred in The Shining, hop off that treadmill and get moving outside with this lightweight hoodie from Reebok, durable enough to withstand your sweatiest workout. Gross! But healthy. Keep it up, man.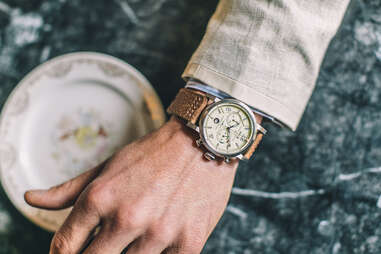 The Casual Watch
AVI-8 Hawker Hurricane Chronograph
It doesn't get more classic than the Hawker Hurricane by Avi-8. The vintage-inspired brown leather band and off-white face mesh well with most items in a spring/summer wardrobe (think the brown oxfords or the button-up chambray shirt).
The Linen Suit
EDGE by WD.NY Slim Linen Blazer
Lightweight and breathable, this dressier staple works for spring, summer, wedding season, or Miami in general. Pair it with brown oxfords and wayfarers for that "I valet my yacht, but I'm actually still a pretty cool and approachable guy" vibe.
Classic Wayfarers
Oakley Frogskins Dark Grey w/Violet Iridium
Forget about spring essentials. A pair of classic black wayfarers is pretty high up on the list of life's must-haves. Pair with a pair of black jeans and a plain white tee for a timeless look, and add a little modern flair with the purple lenses. And now you've got everything you need to get noticed this spring -- except a puppy, which frankly is a really weird thing to buy quickly and efficiently over the Internet.