The 5 most ridiculous slingshots money can buy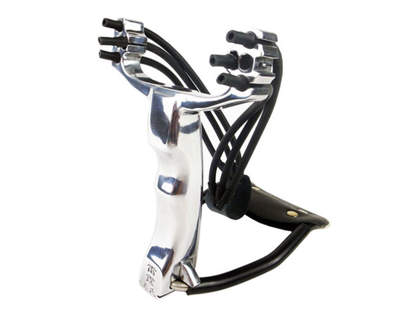 Think of one second in your childhood where you didn't wish you had a slingshot in your hands. You can't -- it's impossible. Which is why we've scoured some of the sketchiest backwater regions of the Internet to find you the five most ridiculous slingshots that money can buy.The King Sling:$62 - With 3 individual elastic bands and a reinforced leather arm brace every single squirrel in your back yard is now shuddering. Also, it's chrome, which is totally boss.
The Barnett Pro Diablo II: $28.50-Look at this freakshow, it's out of control. Imagine getting hit by a walnut shot with this thing. Two words for you: Health Insurance.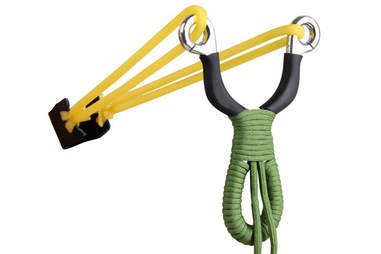 The Classic Woodsman, Stainless Steel: $6.99 - Wrapped with ballistic nylon that you can remove in case you need to strangle the bear that you pissed off when you shot it in the eye, this one's a no brainer.
Dennis The Menace Special : $30 - Honed over millennia, this is the godfather of slingshots. It's simple, inherently rugged, and a total cliché. It also looks the least sketchy, which is nice.
The Gloveshot AKA The Bearclaw:$189.95 - We're not saying this was considered for a backup weapon in Terminator 2, but we're not not saying it, ok?