It's easy to get stuck in a BBQ rut, grilling the same old cuts on your same old Weber, suffering from the same old meat sweats. So, to help you mix things up this Summer, here's a roundup of the nine tools and accessories that'll take your outdoor cooking skills to a whole new level.
Bon Appetit's The Grilling Book Stocked with 350+ recipes, the cooking mag's just-dropped, coffee table-worthy BBQ tome not only has how-tos for everything from grilling on cedar planks to choosing the right fuel for your meat, but also includes a mouthwatering spread of sexy, sexy charred-food pics.
Grillin' Villain Aprons To keep your duds free and clear of all juices, marinades, and your own drool, it's important to cover up, which's where these nerdtastic, bad-guy-themed aprons come in handy.
BBQ Dragon Securely attaching to the edge of your pit, this portable, wireless, rechargeable "BBQ and fire supercharger" blows large amounts of low-velocity cool air to get coals raging faster than a newspaper-stuffed chimney starter (and without lighter fluid), can help revive smoldering flames, and even control temps inside smokers and grills by throttling the amount of oxygen they receive.
Bourbon Barrel Grill Wood Mix in this special grill wood -- cut from staves from authentic bourbon barrels -- with whatever fuel you're using to infuse foods with a rich & unique bourbon-y flavor.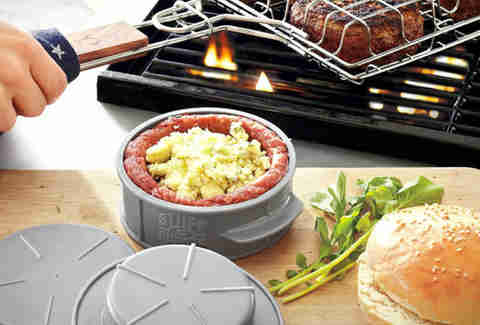 The Stuff-A-Burger Press This plastic tool makes it simple to assemble .5lb or "mammoth" .75lb burgers stuffed with any combo of toppings you love, from caramelized onions and blue cheese, to Fontina and sundried tomatoes, to basil and mozz, or the most obvious choice -- more meat.
The iGrill Syncing with your smartphone via Bluetooth, this gizmo's probe sensor'll keep your lazy butt posted on the internal temp of whatever's cooking when you're too busy being a responsible adult who leaves open flames unattended.
Fold-Out Grill Tools This classy, wooden-handled utensil set comes in its own wooden storage case and includes a spatula, fork, and tongs that each fold out to a beastly 17 inches.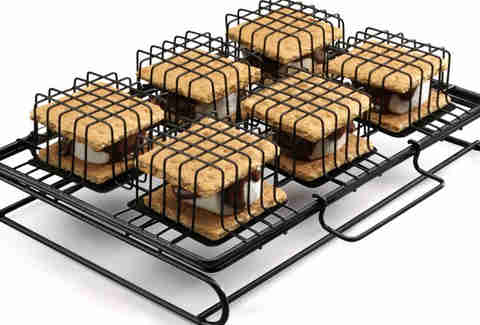 Grilltop S'mores Maker This wire cage setup boasts six cubicles sized to each securely lock in a single s'more, will turn out perfectly melted stacks of graham crackers/marshmallow/chocolate after just five minutes, and'll even work in an oven.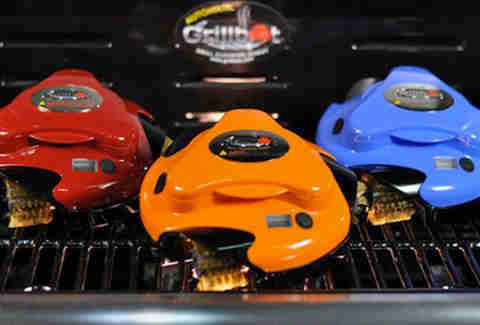 Grillbot Since the last thing you want to do after feasting on stuffed burgers and s'mores is clean up after yourself, this gizmo is essentially a Roomba for your grilltop that cruises around on autopilot with spinning bristle brushes that scrape off any cooked-on gunk.