This man is selling 200 of the coolest cars ever made. You can buy one.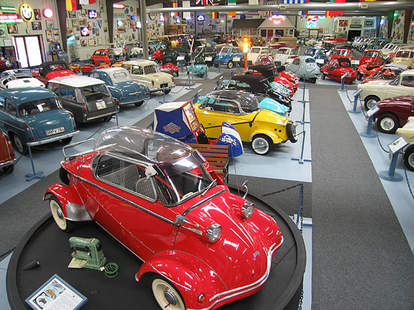 Over the past 22 years, Bruce Weiner has amassed the world's largest collection of the world's smallest cars. Next week, on Feb 15 and 16, he's auctioning off almost every single one of them. And Bruce Weiner isn't the least bit sad about that at all.
Oh, he also has a bunch of deadly chewing gum from 1850 just sitting around
All that's probably a lot to process, so let's start from the beginning. 52-year-old Bruce is a serial collector. In an age when people whose freezers are overloaded with dead cats get their own A&E show, Bruce is unequivocally not a hoarder. He draws a very thick line not made of dead cats between "true collectors" -- people like himself who gain a uniquely deep and nuanced understanding of a given thing, then devote themselves to acquiring only the finest examples -- and "accumulators", who "don't really know what they're buying, and don't get the history behind it."
Bruce gets the history. He gets the history of antique disguise weapons, arcade games, and vintage radios. And of course that ridiculously old gum. Before selling to Tootsie Roll Industries in a merger surely funded by pediatric dentists, he owned Double Bubble and Fleer Candies. While clearing out an old Fleer factory in Philly, he found a forgotten "morgue" of tens of thousands of archived pieces of candy -- every single product made by the company since 1843. First he tells me that said old candy will kill you if you eat it. Eventually he backs off that to say "It's just hard as a rock, you'll have to suck on it for a really long while, then you can eventually chew it." Then I tell him that I often buy packs of 1986 Topps baseball cards and trick my friends into eating the nearly 30-year-old gum. None of them have died yet either, officer
But for 22 years, the thing that distracted him most from maybe-deadly candy was microcars, tiny vehicles mostly made in post-WWII Europe that technically should adhere to all sorts of varying standards (1 cylinder engine under 500cc, two seats max, etc), but can actually be defined by just one: the ability to cause gawking bystanders to ask "pardon me sir, but was this vehicle formerly owned by one Steven Urkel?
They were made by BMW, and Peugeot, and famed German fighter-plane-maker Messerschmitt. Bruce amassed 200+ total. He spent thousands of hours restoring them with (somehow) all-original parts. And in 1997, he opened a museum in Madison, Georgia, about an hour outside Atlanta, so all the world could share his micro-passion for a smallish fee of $5.
And now it's time for them to go. Part of Bruce's decision to sell everything off through RM Auctions ("save for eight cars or so") was that he already owned prime examples of every car he wanted. He doesn't want to be "a caretaker who just pays the bills and does the repairs", but even more important is the fact that when a man has everything, he doesn't have anything left to chase. (Unless that man is Chace Crawford, but he spells his name differently, so he doesn't count.
And oh did Bruce chase. For two decades, he chased like he was a Henry Rollins playing a cop, and Charlie Sheen had just kidnapped Kristy Swanson with a Snickers Bar. Every one of his cars has a story, some as predictable as finding it on eBay, some as beautifully twisted and full of shotguns as the one that's been printed in its entirety below. It's a little long, but goddamn is it worth it.
"Through a literature dealer friend of mine in Germany, I found out about a guy in Bavaria who was in his 60s and lived on a farm -- no phone, no communications. I would go to Germany about every three months because I had a gum factory there, and every time I went I'd take a side trip to Bavaria to try and see this guy. Well it took a year for him to finally answer the door. When he did, he answered it with an IV pole in one hand, and a German Shepherd in the other, and was wearing a big Glad garbage bag around his waist. Of course there were empty liquor and beer bottles everywhere. He said 'what do you want, what are you doing here, get off my property.' So I left
This went on for a number of years, and I kept going back four or five times a year. Eventually, he answered the door with a shotgun. No more German Shepherd, now he answers it with a shotgun. He let me in because he saw I wasn't going away, and we talked, and talked, and I listened to him tell stories about gathering 200 cars over about a 10-year period in the 50s and just sticking them in his barn. But he had six microcars in there, two of which were extremely rare. So after six years -- six years -- of negotiating with him, we finally come to terms on two cars.
And then he dies
So I go to the town, and I lie and say 'he owes me money, can you tell me who he has registered as next of kin?' He'd never been married, and the people in the village never heard of any relatives. So someone in town tells me he has a living sister with a different last name. I tracked her down on the Internet, it took six months. I get her on the phone, and she's screaming and yelling at me -- why am I calling her, who are you, what do you know about my brother, when did you last see him, and just went on and on. And then she wouldn't talk to me after that
So I send her a huge care package of bubble gum, because at the time I owned Double Bubble. I disarmed her. And she calls me to thank me for the bubble gum, and how sweet it was, and she was never married, and never had kids, and I was the only person who ever sent her anything in her whole life. So we started talking for about a year, until she finally said ok, let's do this. I sent her the money after we decided what the cars were worth. It took me about another year to get the cars out of there, because the barn floors were collapsed, and you couldn't come in winter, and you couldn't come in spring, it was too wet. We had to get hydraulic jacks to come in and lift the floor up. And eventually, I got in there, and got the two cars."
Who needs the actual cars when you have stories like that
Oh right, you do. So here's a look at five of the finest examples you can bid on (including over the World Wide Net... just click here and scroll down to see how) at next week's auction
Lot 274: 1972 Reliant Cars Bond Bug 700EEvery one of 2,276 of these 30hp three-wheelers -- which came complete with a fighter-jet style lift-up canopy -- came in this very subtle orange. The best part, other than all that? This one might go for as low as $15,000
Lot 584: 1959 BMW Isetta "Whatta Drag"Most Hot Wheels are based on cars. This car is based on an iconic Hot Wheels model that itself was based on the aforementioned Urkel car. Bruce tossed in a supercharged Chevy big block, used the suspension from an M3, and made sure that every single detail -- right down to the rims -- exactly matched the car that spent a few memorable hours in your nose back in the day
Lot 593: 1951 Mochet CM-125 LuxeThis French minimalist beauty is the evolution of a Velocar, which itself is the evolution of a bike that's much nicer to ride in the rain than a regular bike. It makes a mean 3.5hp, and its design was guided by the philosophy "If it isn't there, it can't break." But can it break dance?!? No, of course not, it's a car.
Lot 587: 1966 Peel TridentYou'll get to decide if it's Moors or Moops in this Bubble Boy-ready wonder from the Isle of Man. And don't worry about getting smoked by other bubble cars on the strip -- it's got the "big" 98cc engine
Lot 549: 1947 A.L.C.A. VolpeWhen trotted out in Rome with famed comic Erminio Macario as its pitchman -- you remember Erminio Macario, from Imputato alzatevi! and Non me lo dire! -- this looker had orders being placed for it within minutes. And then supply problems hit, and none were furnished with motors. So if you're a true collector of motorless cars, you should get this one