We heard a rumor through the frozen, withered grapevine that spring was coming -- and the folks over at The Frye Company think it's time to stop letting Mother Nature dress you in the same salt-stained snow boots every morning.
That's why they've rolled out some new styles for the season that combine classic silhouettes with the signature leather craftsmanship that Frye has been known for since its inception in 1863. As one of the oldest American heritage brands and shoe manufacturers in the United States, Frye pairs their products with the form the modern man wants and the function that was durable enough to carry the pioneers traveling thousands of miles westward.
We've assembled a rundown of The Frye Company's spring staples that you can depend on for any event -- whether you're the +1 at a stranger's wedding or the waterboy at your company picnic.
And since you've been lucky enough to survive the winter, let's see if your good fortune holds up long enough for you to win big in their upcoming sweepstakes. (More details on that below!)

The Oxford is the wingman of shoes. They are dependable, reliable, and exist to make you look good. And with the contrasting laces and hand burnished leather in this year's military green -- the James Crepe is the pair in which to put your trust. Throw them on with a pair of dark wash jeans for a casual look or pair them with khakis and head to the office.

Putting a twist on a well-loved classic is always a bit risky (there was really no need to remake Red Dawn), but The Frye Company's leather lace-up sneakers are an instant closet staple. The Gates High comes in nubuck, a type of leather similar to, but sturdier than, suede, distressed in a way that no two sneakers look the same. Throw 'em on with a pair of joggers for a comfortable but trendy look.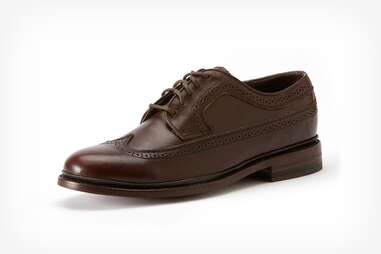 Unequivocally the dressiest of the bunch with its full-grain leather and brogue detailing, the James Wingtip gives you a solid foundation to stand on when you're being sized-up by your girlfriend's parents. Pair them with a navy suit at work to look like money while you make money, or throw them on with some colorful green chinos for that springtime feel.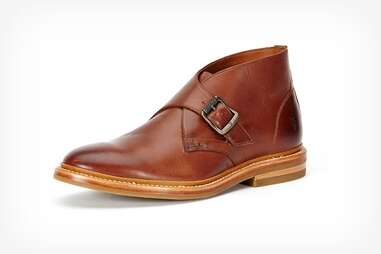 Rocking the underrated monk strap is a casual reminder to the discerning eye that you know what you're doing when it comes to personal style. It's also a good indicator that you might be the type of guy that smells really good all the time but no one wants to be creepy enough to point it out. (No, but what is that scent? Tell me!) And the chukka aspect of this boot adds a casual layer to the William Monk -- you would do just as well pairing with black jeans as you would a navy work suit.
Your ankles need their space and they just hope your socks understand that this is just a short-term break. The Norfolk moccasins are the quintessential footwear staple of the season. Their sunwashed nubuck leather will set them aside from all the prim boat shoes you'll see and whatever your opinion on salmon-colored shorts is, you can't deny these slip-ons would look pretty good with them.

Because the obscenely generous folks at Frye® want to hook you up with a fresh look this season, they've decided to give away a "Logan" leather backpack and tablet organizer. Enter here and find out how to win -- and what to wear -- this spring.