The five smartphone apps you need to download this month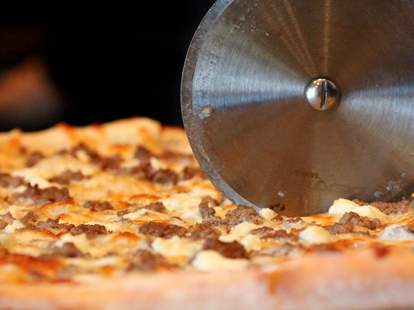 You don't want Angry Birds and a fake phone number from that non-angry bird you tried to pick up at the bar last night to be the ONLY things in your phone, so we're running down the most recent, most sweetest apps for you, including one that automatically records your life story, one that points you to the nearest pizza, and one that wants to set you up with a new bird every day
Pizza CompassCreated by a dude from Brooklyn, and promoted (very successfully) online by an imaginary middle-aged motivational speaker, this app promises "no frills, just pizza" and then delivers... no, not pizza, but on said promise via an arrow/slice of pizza that points you to nearest pizza joint, or a map with the all the open slice-slingers in your 'hood.The aforementioned motivational speaker, Zeus Gorham Munkist, has got your d-load link right here

MusycThe crew behind DM1 - The Drum Machine has just dropped Musyc, which turns your every touch into potentially awesome sounds, not with boring stuff like keys or chords, but with lines and shapes that'll make you bounce while you watch 'em bounce off each other. The shapes represent 64 different instruments that're split into 16 categories like Jazz, etc., and then backed-up with recording tools like a mixer (for level, pitch, etc.), and two effects channels (for things like reverb or delay), though if you go by the sheer number of How I Met Your Mother re-runs, one FX channel is plenty.Download this sucka, drop some sweet beats, and then share 'em with one-touch on sides like SoundCloud or even iTunes

NoonswoonEvery day at noon, the appropriately named Noonswoon tries to hook you up with one dateable girl you're kinda connected to though social media -- usually it's a friend of a friend -- then, if you both like each other, you can chat right in the app without giving away too much personal information like your phone number, or the fact that your profile picture is actually 10yrs old but you're planning to get a new one s(w)oon.To turn lunchtime into a time of frustration and rejection... or, err, maybe get a date (!), click here

SagaSaga is life tracking app that automatically records where you've been and what you're doing, so you can see how much time you spend commuting, or at work, compared to the average dude, or instantly remind your girl about that time you took her out for endless pasta bowls at Olive Garden when she starts complaining about how you guys never do anything.This thing let's you share parts of your life, link up photos from F-book/Instagram, and even defines your personality traits. Get it.

WakeThis sweet-looking and intuitive alarm clock boasts a simple gesture-based interface that uses the sensors on your Jobs-phone to control things: Swipe the screen for access to your alarm; slap the screen to snooze; or just flip it over to turn the thing off, and then flip over and go back to sleep.If you HAVE to wake up, you might as well have a cool alarm. Click here to d-load it.