Your bike is probably okay at getting you from point A to point B, but what about your most difficult commute: the lug up the stairwell to your apartment? Or the lug through the jerks in the elevator who don't want anything to do with your giant bike? So what if there was a bike that folded up in 10 seconds flat, making it as transportable as a very large briefcase? Oh, there is, the Mobic Life X7. Way to go science!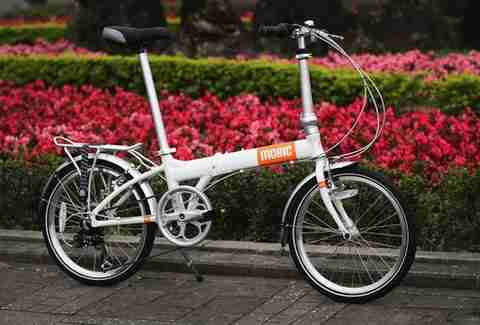 100% assembled in Cali, it's all-aluminum frame's "Click-n-Lock" technology allows for the magical feat. Other things that can be done in ten seconds, if you're good at them: peel a head of garlic or de-seed a pomegranate.
The bike is equipped with a 7-speed grip shifter and derailleur, plus a 52T Crankgear Kit (think: fast). It's also got high pressure, low resistance 80 psi tires, allowing you to spin faster, lighter, and with better puncture resistance, because even folding bikes can suck to carry sometimes.