You can buy Gerald Ford's Stetson and Frank Sinatra's toupée on eBay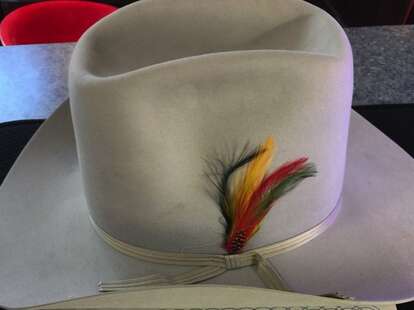 Courtesy of eBay
Courtesy of eBay
So we were in the midst of curating an eBay list of the ballerest clothes you could possibly wear in Vegas, and we came across two things that blew our collective minds: Gerald Ford's stetson, and, find of finds, Frank Sinatra's actual toupée. No, really, it comes with a signed note of authenticity stating that it was once rocked by the greatest crooner to ever serenade the Sands. Whether or not you're thinning a bit on top, it's hard to imagine a bolder move than hitting the casino floor wearing a presidential hat over Old Blue Eyes' stylish hair.
Check out our eBay Vegas wardrobe here -- we rounded up 10 sweet items, and one of them definitely belonged to Sammy Davis, Jr.
Because we couldn't stop ourselves, we also put together 13 of the coolest beer steins you've ever seen, and discovered that you can buy a freaking restaurant on eBay. If you think luck might be a restaurant instead of a lady, you probably need to see this.