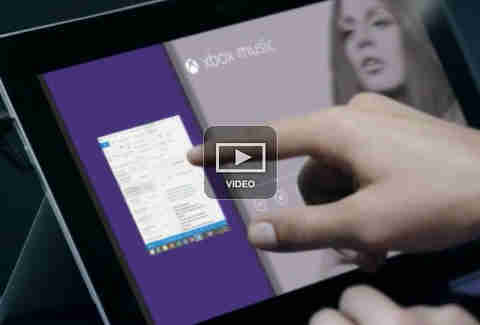 Microsoft's new family of tablets -- the Surface 2 + Surface Pro 2 -- is making its slender debut with a slew of updated features and very useful, seriously-thank-you-for-these free bonuses. Whether you crave the long-lasting battery of the Surface 2 like some people crave snack chips, or want to ditch your laptop for the Surface Pro 2, the seemingly endless list of upgrades across both devices includes:

Ports: now you've got 'em, so you can share and save files, charge your phone, or charge your desktop aquarium. No really, they make those.
A two-position kickstand, so it's Surface doing the lean back and not you.
Dolby audio with virtualized surround sound, making fast friends with the HD display screen. Army. Wives. Binge.

In it to win it, they're also handing over one year of unlimited free voice calling to landlines and free Skype WiFi at over two million hotspots worldwide. 'Cause free's best in threes, you also get 200GB of SkyDrive storage for two years. For a slender package, that's a pretty fat deal.