The Gift Guess is done! Here's how it went down: We gave you four possibilities. You read the clues, clicked on your options to see which one best matched up, and tweeted in your vote from the banner at the top of that option's page. If you picked the right gift, you were in the running to win it. Genius, right? Check below to see the cool stuff we gave away.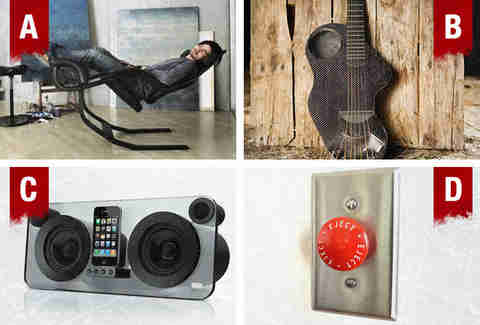 This was the last day's set of clues:
It doth rock.
It'll have you screaming "Defying Gravity". Or other songs.
Richie Sambora has a complicated relationship with its technology.
Readers had to decide between Option A, Option B, Option C, and Option D. Just for kicks, you should do that now.
How serious were we about this? Here's the rest of the gifts:
On Day One, we gave away the ultimate accessory for the most important thing in your life (your television).
On Day Two, we gave somebody way more than just the time of day.
On Day Three, we just freaking rocked.
On Day Four, we gave away the sharpest goddamn living room decor ever.
On Day Five… we got horny.
On Day Six, we knew exactly when to fold 'em.
On Day 7, we droned on and ON.
And on Day 8, we floated like a butterfly, and drank wine like a bee.
Then there was Day 9. You figure it out yet?