Gift like a god, drink like a king
Adulthood is marked by a shift in drinking habits. Boys sipping bottom-shelf swill become men who have acquired a taste for fine alcohols, but only after sprouting [no fewer than 15] chest hairs. Even if you and/or your friends haven't made the transition yet, don't fret. With the right gear, you can still drink well.
This holiday season, give the guys you care about the gift of a better drinking experience. Here's stuff that caters to every preference, be it beer, whiskey, wine, or cocktails. These are the tools to gift in anticipation of a better, boozier, and (hopefully) more mature future. Drink up (and consider hormone therapy if your chest hair needs a boost).
Plastic cups aren't acceptable drinking vessels post-grad, so give everyone on your list grown-up gear that makes drinking beer just as fun (or better) than it was in college. 
You're too old for red cups (at home, at least). Pour a cold one into a classic stein, instead.
Hand cut from a real bullet cartridge, this bottle opener's a surefire way to get totally blasted.
For the friend who's still dumb enough to open bottles with his teeth, an easy-to-use, cap-eating monster will save him a few dental bills.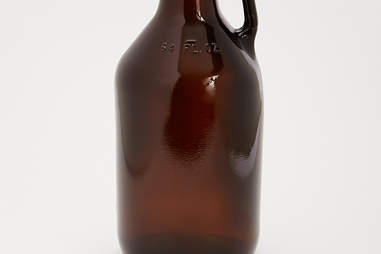 Sure, you could bring a six pack. Or you could fill a personal growler with beer and bring that instead. (It's the gift that keeps on giving.)
Gift this to friends and enemies alike, because nobody should have to drink warm beer.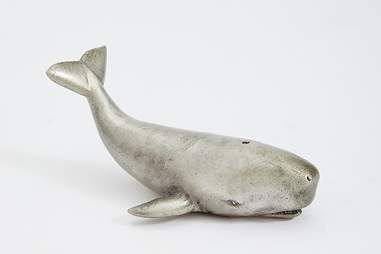 Finding a good bottle opener is everyone's white whale. Use this, solve all your problems, and pour one out for Captain Ahab.
Bill F*cking Murray is joining your drinking crew, which is amazing. Just don't complain about how one-sided the conversation is.
A personal growler with a five-beer capacity makes brewery tours and picnics twice as good.
Give your dad, boss, or buds tools that will last a lifetime so they can educate themselves, indulge, and imbibe to the fullest. Because drinking whiskey isn't just a phase -- it's a lifelong skill.
Treat your (taste)buds to a lifetime of chilled -- not-watered-down -- whiskey with stones that keep cold whiskey tasting like cold whiskey should.
Whiskey is liquid gold. Swig it, don't spill it.
Handsome stainless steel shot glasses say "grown man", not "college guy".
Acknowledge that you're harming your body juuust a little, but recognize that it tastes damn good and is totally worth it.
Add a crystal decanter, and any 500-square foot apartment magically transforms into a dimly lit den with an antique mahogany desk, leather chair, and crackling fireplace.
For the guy who buys cheap alcohol and pretends it tastes good, an at-home barrel aging kit will drastically improve his quality of life.
Big cubes keep drinks colder for longer. Whiskey Wednesday just got better.
Rip shots in the company of great thinkers who knew a thing or two about drinking and share your newfound wisdom with friends.

Good wine is a universally agreed upon way to impress parents and/or a date. Help your friends out with some totally mature, fancy-looking vino gear that makes Bacchus' nectar taste like gold, even if it came from a $5 bottle.
Stemless glasses are better, generally. This set's bowl-shaped to enhance those toast-y, olive-y Syrah flavors.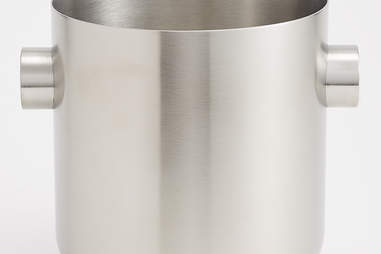 Warm champagne isn't worth drinking. Neither is champagne that's sitting in an ugly ice bucket.
Delicate stemware like the stuff your 'rents have proves that you're an adult. With a set designed to enhance the flavors of rieslings and zinfandels, drinking wine just got better.
Only an idiot drinks off-temp wine and willingly wrestles with a drippy, leaky ice bucket. Corkcicle keeps your vino perfectly chilled, sans mess.
A vacuum-sealed, triple-insulated canteen makes boat trips, hikes, and picnics boozier, which also means "better".
A man deserves to drink wine from proper glassware, not a plastic cup. This set specifically enhances the rich, dark fruity flavor of your go-to Cab.
Your crew's a frugal bunch, so don't let wine go to waste. A corkscrew makes it ultra easy to open, while a vacuum stopper keeps it fresh.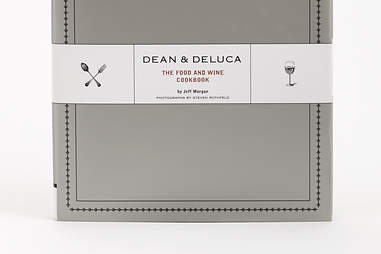 Think of this as a cookbook with a built-in sommelier. It's got killer (but totally do-able) gourmet recipes and wine pairings for each (desserts, as well).
Newsflash: You don't need a bartending license to make cocktails at home. All you need is the right gadgets for muddling, zesting, measuring, and mixing. With the right tools, dreams of a signature cocktail (or just drinking a martini in your boxers) become a reality.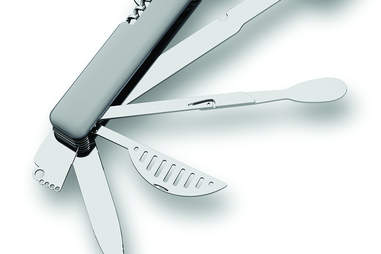 Any guy who once used a baseball bat to muddle mint in his mojito needs a 10-in-1 bartending tool.
Shot glasses this wicked-looking (and heavy, btw) deserve to be put on display. In fact, they hardly look like drinking vessels at all, so your friend can fool his parents into thinking he's cleaned up his act.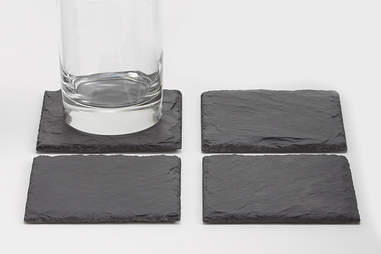 Keep your bud's table looking like new for juuust a little longer with slate coasters. Think of 'em as stone thrones for your brews.
Embrace your inner Bond with a pocket-sized martini maker. An all-in-one jigger, knife, reamer, zester, channel knife, and strainer is guaranteed to make you the most popular guy in the room.
Proper drinks demand proper proportions. A fancy cube-shaped jigger has all the precise measurements you could possibly need.
There's a mixologist in all of us, and this shaker will have your friend mixing deliciously large batches of Alabama Slammers and Tom Collinses like a pro.
The ability to make good cocktails earns a man friends. Give your guy the gift of good drinks at home (and new friends) this holiday season.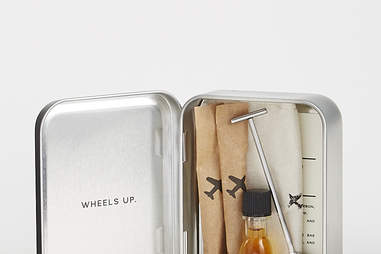 Sure, you could have a Bourbon on the rocks mid-flight, but when you've got a pocket-sized kit with bitters and a muddler, you can have a goddamn Old Fashioned.