Meet your new favorite outdoor drinking companion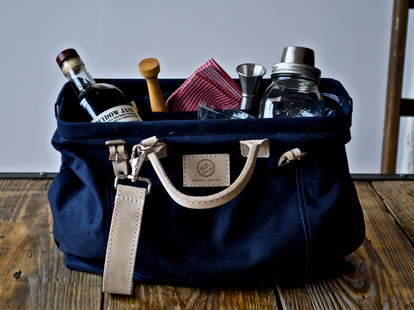 From the same team behind the ingenious Mason Jar Cocktail Shaker, the W&P Cocktail Kit's a spectacularly handy new booze-specific tote that resembles a classed-up carpenter bag, and comes equipped with everything you'd need to mix a mean drink on the go, minus the actual booze, so don't forget to pack that unless you want the people you're mixing drinks for to think you're mean.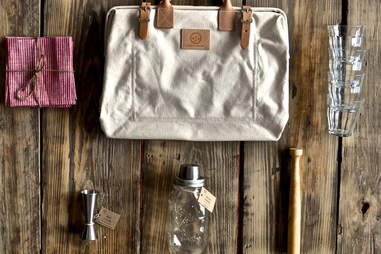 It's fashioned from canvas and leather, features a sturdy aluminum frame to protect your hooch (it also helps to keep it propped open when in use), and sports a series of tall pockets designed expressly to stash both wine and/or liquor bottles upright and keep them from clanking around. Plus, each one includes its own Mason Shaker, a specially designed muddler, a jigger, four tumblers, and even linen cocktail napkins, should things get sloppy.