This wooden box is full of gin-tastic secrets
Because good gin is worth keeping from everyone but yourself, this new limited-edition, Lazy Susan-ish rig features hidden compartments that, when all opened up, reveal the ultimate secret G&T mixing station.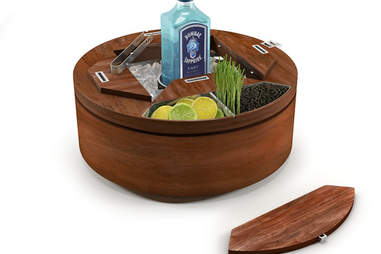 Each one of these Bombay Sapphire East-themed, retro-style turntables is hand-constructed from walnut, with concealed cubbies dedicated to a different stage of drink construction. The top middle opens up to reveal a bottle chiller and ice bucket, and is abutted by a smaller alcove on one edge meant for stashing garnishes and botanicals (citrus, lemongrass, peppercorn, etc.), with its top serving as a small cutting board.
Down below, there's a sliding door with room for the (included) glasses, coasters, jigger, stirring spoon, and Japanese paring knife, and it's kept securely "locked" thanks to a set of special ice tongs, which, if your pals can't figure out, suggests they've probably been dipping into your booze stash already.