Gettin' Handsy In The Shop: Bags & Jackets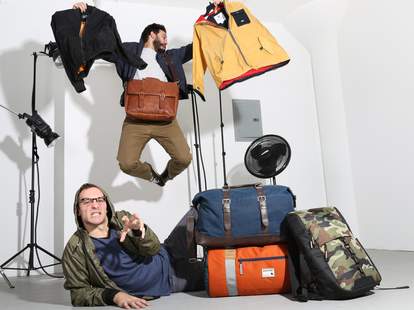 We, Alex and Nick, are editors/celebrities/heartthrobs who know our way around apparel, gear, gadgets, and other kits. Every day at Thrillist we fearlessly wade knee-deep in the best stuff to review and write up, and now want to pass along our golden opinions to you, our biggest fans/fearless readers. We'll comb our warehouse of $W@G for the best of the best, and present it here in this column. Because we like to play favorites. And also because we need attention. Hold us.
This time we've rounded up jackets, bags, watches under $100, and headphones. And got our Blue Steel on. Kinda. Fair warning: we may soon abandon our posts here to become professional fashion models (once we get a handle on that damn runway strut).

Anthony Humphreys
"I based my choices on some pretty simple criteria: is it comfortable? Is it durable? Can it be worn to a party thrown by Renée Zellweger? Yes. Yes. Mega-yes."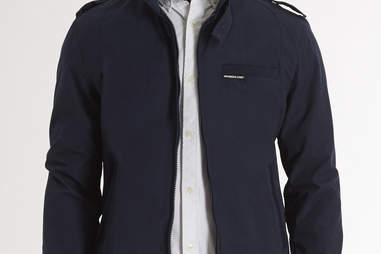 "Excited by their slogan 'When you put it on… something happens,' I draped this classic jacket over my shoulders and waited patiently for the universe to show me my destiny. It did. People asked for my autograph, had me sign napkins, and took multiple photos with me. Now I have Gary Shandling on speed dial — thanks, Members Only!"
"Take a deep breath. Smell that? That's the pungent smell of knowledge, adventure, spontaneity, and what seems to be Nick's mysterious cologne from Latvia. This saddle carrier is forged from 100 percent leather, has a removable laptop sleeve, detachable shoulder strap, and no strange Eastern European fragrances."
"As someone who is blissfully ignorant about watches, I go for aesthetic and durability more than anything. I'm drawn to the minimalist design, tan leather strap, steel case, and the fact they calibrated the hour with the minutes, which makes it insanely easy to tell the time."
"When I'm blasting Shaggy's 'It Wasn't Me' on repeat, I need something that can get loud, look awesome, and take away the attention from my face lip syncing 'It Wasn't Me.' Not to mention the memory foam ear cushions, steel headband, and the fact that these weigh a mere 90gm."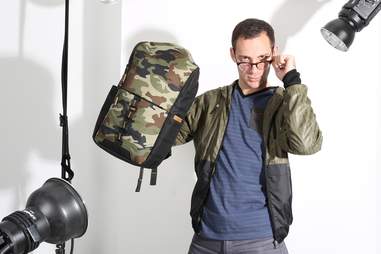 Anthony Humphreys
"I like a blend of ruggedness and everyday, simple fashion. That's because I value high-quality stuff and also feel it's important to be able to go from the board room to off the grid at a moment's notice."
"I have an unreasonable fear of being uncomfortable — I want to be the right temperature in every situation, but to be able to move freely as well. I'm also unnaturally fascinated by jackets, and have, too, too many. This one is lightweight and cozy, but it's lined with a fine fleece that will moderate temps well, especially on those chilly nights in the... wilderness. When I... camp? Which I totally do."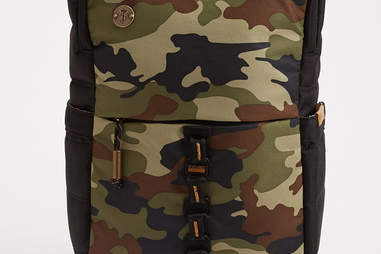 "I'm especially fond of apparel and gear that makes people wonder aloud, 'Is he a paramilitary soldier or just on-trend?' This is one of the more reasonable and attractive camo prints I've seen recently, and the bag is very comfortable to carry. It's also well-structured and sturdy enough to keep its shape even with light loads. Feels tough."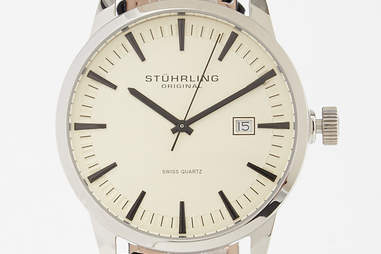 "I was given a Stuhrling watch as a gift years ago and it always attracts so many oohs and ahs. This one is so simple, but ultra classy. The embossed band is a great touch, and though it's somewhat of an over-worn sentiment, Don Draper would rock this timepiece for sure. It's that handsome. And, punny as it is, this style is also timeless."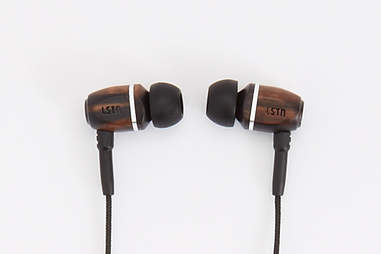 "There's something very attractive to me about combining electronics and natural materials, and I know I'm not alone. (See: Woodie station wagons, et al.) The wooden parts on these earbuds give off a soft vibe, and makes them visually interesting as well. Which is important during my commute — I don't get lost in a sea of white plastic headphones."