We took a nap on the most expensive mattress in the world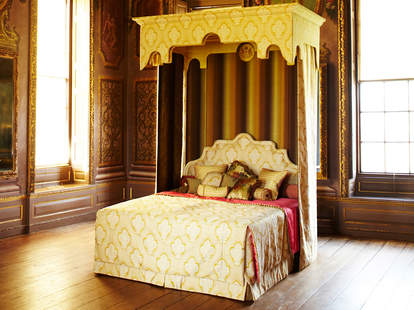 We wouldn't necessarily classify everywhere that we've slept for the last 20 years as a bed per se. There's been the occasional floor, the once in a while office chair, a few resplendent rests on park benches, and more than a few pass outs on our buddy's futon. We didn't mind really, that was until we took a nap on the hilariously expensive $175,000 Royal Bed, from Savoir Beds.
Seeing as there's only 60 beds being made in honor of the 60th Anniversary of Queen Elizabeth's Coronation, Savoir figured that a couple of sexy scanidanivians dressed in 18th century garb would be the perfect poster children. We were sad to later learn that they were not included in the sticker price.
Nap status: instant. The bed is made out of some ludicrously comfortable material, i.e.. Mongolian cashmere wool, and blonde horsetail hair from Latin American Horses. We'll say it again - Mongolian.
Care for a drink sir? Just not near the bed, k?
Our pal @JustinRocket took it upon himself to stress test the Royal Bed, sealing the deal with a full belly flop (not pictured).
The leather on the mattress handle is nicer than your Bentley's. Guaranteed.