You can buy a 1200yr-old Italian castle with its own private prison
While your idea of prime Italian real estate may be that extra nice booth at Olive Garden, this incredible 1200yr-old castle outside Umbria is the real deal. Set on a hilltop overlooking a lake, it's got 28 rooms, 11 bathrooms, a 32-acre olive grove, and it's own freakin' prison, which, with the right permits, you could potentially turn into your own Olive Garden.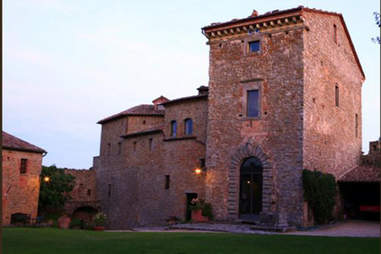 With an asking price under $8M, the walled-in compound's got 20,000sqft of floor space split up amongst five separate buildings -- a main house, guest cottage, coach house, prison, and even a private chapel -- which all underwent subtle structural facelifts in the early 1990s under close supervision by the country's cultural ministry.
Want to bunga-bunga party harder than Berlusconi? Shouldn't be too hard considering it's got six bedrooms, a vaulted, 1400sqft wine cellar, "magnificent" reception room, and a sexy, sexy... wood-paneled library!
Just 30mins from the closest airport, it has its own helipad, and the coach house has enough room for six cars.
And since you'll definitely need some help tending the expansive grounds/prisoners, there's even a sizable caretaker's apartment with its own kitchen.