Anthony Humphreys/Thrillist
Anthony Humphreys/Thrillist
Clothes shopping for the fall doesn't have to be a dreaded neccesity. In fact, if you stop by Lord & Taylor's freshly redesigned men's section, it can be a pretty awesome necessity. Check it: two floors of all out designer fashion, premium denim, and some side attractions to keep you out of the fitting room, clothes rack, fitting room circle of boredom. Check out the goods, then hit the Midtown location and leave the dread at home.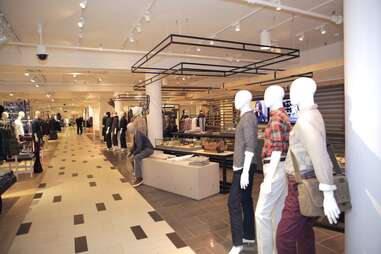 They've doubled the square footage
Prepare to be sartorially satisfied. We're talking not only a completely renovated men's section but also about 15,000 more square feet of choices. That means, no matter the style-profile, you're bound to find something worth rocking, and you won't have to pull the cat-walk of shame home empty handed.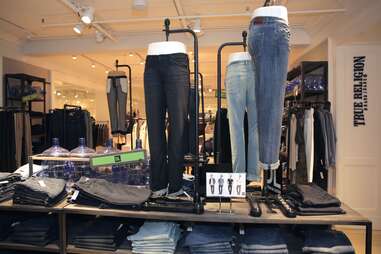 There's a TON of designer jeans
Jeans are like a car: you're gonna spend plenty of miles in them, so you'll be rewarded for investing in higher quality. Collections from True Religion, G-Star, Diesel, Seven, and more bring the necessary excellence. Bonus: all these lines are going the "comfort denim" route, which essentially makes your pants a cross between sweatpants and jeans... otherwise known as thick thigh nirvana.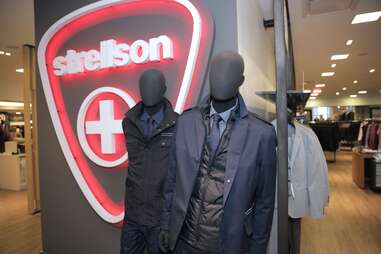 They've got the European designers you need
Braving the ridiculous fanny-packed crowds of SoHo to get the latest continental duds sucks. Skip that and check L&T's American exclusive on both Strellson (slick Swiss suiting, accessories, and outwear) and Bugatti (German jackets, jeans, and snappy dress shirts). Take that, lower Manhattan.
And they've got American designers aplenty
If something a little less European is more your shtick, the NYC men's floors also carry complete collections from designers like Michael Kors, John Varvatos Star, and Theory, all of which are brand spankin' new to the store. Plus, this is the only location to carry Michael Kors slim dress shirts. Tight.
Their exclusive brand section is pretty much a cozy lodge
Their very own Black Brown 1826 brand beckons visitors right off the ninth floor escalator with a woodsy lodge completely covering the entire front half of the store. Here you can score cashmere classiness, some sharp khakis (great when the parents come to visit), and the general impression that you're fireside in some Colorado abode.
You can look like JT
The NSYNC member turned solo artist turned movie star has his own clothing line in partnership with lifelong friend Trace Ayala. Head to the William Rast section of the store, (exclusive to Lord & Taylor) and you'll be bringing sexy back... to your house... in the form of snazzy new clothes.
You can catch the game
The only time you've got to shop? The weekend. The time the NFL and college football are dominating TV? The weekend. Good thing you can hit the bar-like area in the heart of the men's section for a much needed pigskin break. There are ample tubes that run game day coverage and round-the-clock highlights. Score.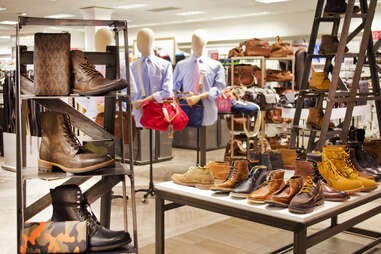 They've got the designer boot hookup
Because any wardrobe rethink would be roughly two feet short without a rugged pair of designer boots, take a look at the solid spread of shoes from the best names (they doubled their feet offerings alone with the redesign). Pictured up there, Diesel boots will bring an appropriate look for those days spent traipsing through apple orchards and growing a Viking-worthy beard.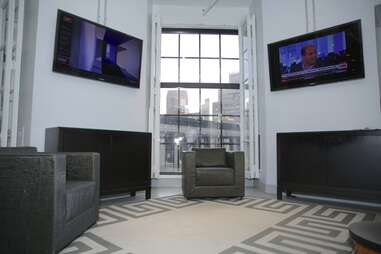 Ron, your new tailor, will hook you up
Having a tailor is one of the few things about turn-of-the-century life that was probably pretty sweet. Good thing there's the best of the old world and modern convenience nestled in the back, where a fitting expert (ask for Ron) will help a blazer sit perfectly on your shoulders as you kick back on some leather couches and watch the game.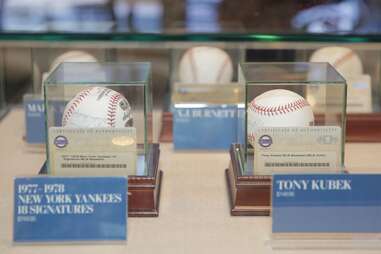 You can check out baseball history
Because you can't have too many breaks between carefully appraising cardigan button layouts, there's a tastefully arranged mini baseball museum. Check out 'graphed balls from Tony Kubek, pretty much the entire roster from the '77–'78 Yanks, and more pieces of history-soaked memorabilia.
You can practice your polo etiquette
With all the "brand spankin' new" talk, it's easy to forget the standby brands Lord & Taylor has always been known for, like Polo, Lacoste, and Calvin Klein. But mosey over to that classics section to find some pretty great trinkets for the sports gentleman in everyone. These regulation polo mallets are just begging to see if you even know how to use a regulation polo mallet
Ready to get dapper? See some of those clothes you could be buying in action right now: