Craigslist is the worst. Meet the new best roommate-/apartment-finding site in SF.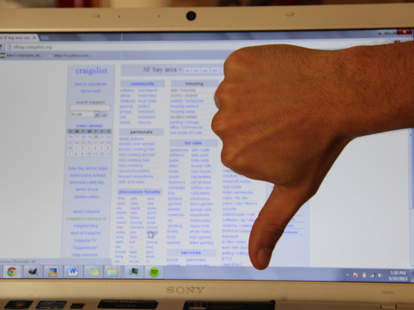 Trying to find a roommate in San Francisco is like trying to find a cab in the Outer Sunset. Or the Inner Sunset. Or the Inner Richmond. Or Bayview. Or the Excelsior. Or Seacliff. Or Parkside. Or Balboa Terrace. Or the Presidio. Or Hunters Point. Or Lower Pac Heights. Man, cabs are the worst, huh? Luckily (for people looking for roommates, not cabs, sorry), the still-in-beta Roomidex has launched to make it actually really easy. Here's how it works
1. Register yourself via FacebookYou connect to the site via The Facebook, then fill out a short profile about a) yourself, and b) the apartment you'd like, with necessary fill-ins like move-in month (July), which university you attended (Morehead. Hahahaha, no really, it was SF State.), and optionals that'll help better pair you, like neighborhoods you'd like to live in (Seacliff), neighborhoods you can actually afford to live in (definitely not Seacliff), cleanliness, and whether or not you're a drinker
2. Find roomiesOnce everything is filled out, Roomidex will pair you with any Facebook friends or friends of friends who are moving in the city around the same time, which you can then filter by preferences from their profile
3. Get your apartmentOnce you and your new roomie/bff have figured things out, you can ask Roomidex and they'll connect you with a broker and a moving service, aka the whole package (which you luckily will not have to move yourself).