Three Fat opportunities from New Belgium Brewing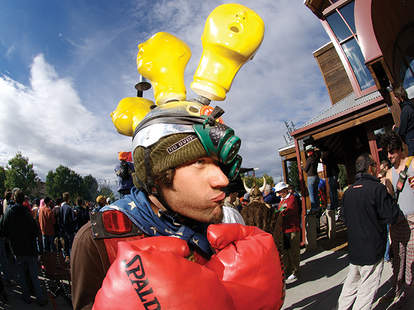 Thrillist and New Belgium Brewing -- the hops heroes behind Fat Tire and other masterpieces like Cobra Horse (a totally real thing) -- are bringing you a holy trinity of awesome. For real:
First, they want you to join the Tour de Fat, an insane parade/festival/indescribable hootenanny featuring beers, bicycles, games, and bacchanalia in 10 cities across America. See if you're near the shenanigans right here.
Second, Thrillist is hosting a sweeps that'll fly out one lucky winner and a pal to the San Diego Tour de Fat, where they'll also get a VIP dinner and drink session. To enter, show us how strange, beautiful, or just plain different your beverage-quaffing habits are by sending out a pic with the hashtag #DrinkDifferentNBB.
 
Third, these dudes are already known for having one of the greatest brewery tours ever. Now they've given us exclusive access to the tour behind the tour. Want to see what carnies, dirt bike racers, and microbiologists have to do with beer? All you have to do is: