10 reasons you should be shopping at Lord & Taylor DC
The fall fashion shopping season is definitely in full swing... while your motivation to actually get it done is probably in a decidedly downward arc. Thankfully the Lord & Taylor in Friendship Heights is packing in everything a man needs to get his dapper on -- no need to store hop, and you won't leave disappointingly shopping bag free. Check out just some of the new lines and store features that this one-stop sartorial shop has got in-store this season.
They just flavor-blasted their brands with a major refresh
Not only are there more designers to choose from, but they've also redesigned the store to be way easier to navigate. That way when you're looking for a pair of slick, modern jeans, they're exactly where you'd expect them to be. "Browsing aimlessly" now has decidedly more "aim".
You can look as fly as JT
The NSYNC extraordinaire turned movie star has his own clothing line in partnership with lifelong friend Trace Ayala. Head to the William Rast section of the store, (exclusive to Lord & Taylor) and you'll be bringing sexy back... to your house... in the form of a badass leather jacket like that one right up there.
And then there's denim
A good pair of jeans should feel like a second skin in a good, not creepy, way. The new men's section has options from Guess, Buffalo, Lucky, and more. Just don't be like this unlucky gent who clearly got dressed in the dark and can't tell that jean pockets belong inside the pants, not outside. But either way, if you need a pair of jeans, you'll find them here.
You can expand your chest candy animal kingdom
Freshly added Penguin duds? Yes -- the modern brand is the result of a combination between a 100-year-old Minnesota underwear factory and a story involving a taxidermy penguin named Pete whose head was knocked off during a flight. There was whiskey involved. We couldn't make this up if we tried.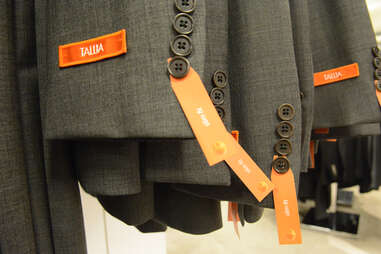 Slim suits are in stock
Don one and you'll look trendy at work, at a black tie gala, or at that craft cocktail speakeasy you're cool enough to know about. Start with Tallia Orange -- a new line for the store -- which includes suits, jackets, outerwear, vests, pants, and ties.
There are leisure looks, too
More new lines like Alternative Apparel and Bench are up for purchase as well. These duds are comfortable enough to race around town or watch Sunday football at a bar. Go ahead, look good in that lightweight hoodie or perfect long sleeve Henley.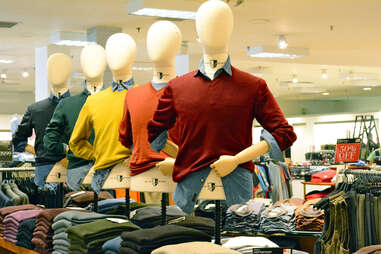 You can score the best sweater weather numbers
It's not fall unless there's cashmere involved. That's just a seasonal law there's no arguing with. The store's exclusive brand Black Brown 1826 has slick versions in every color on the spectrum. Plus, you can dress these gossamer-soft sweaters up or down. Yes, "gossamer-soft". Don't make us say it again.
You can go slim with Michael Kors
Lord & Taylor is the only store to carry Michael Kors slim fit dress shirts. That means no more time-consuming tucking -- just form fitting awesomeness that showcases those CrossFit abs you've been working on all summer.
There are plenty of options for your feet
Fortunately, at the Friendship Heights store, you don't have to navigate to another floor to find the shoe section (because that would be too much.). Just look past suiting. They just started carrying some classic throwbacks like Doc Marten, Converse, and Puma for more casual occasions. Dressing up? They've got dress shoes that balk at boring like a few of those suede numbers up there.
Finally get yourself a tailor
These guys understand the importance of a perfect fit and do tailoring in-house (the name was a good hint). You can even bring in clothes you didn't buy at Lord & Taylor and they'll sharpen them up as well. And let's be honest, you've probably needed a properly fitting suit for a long time. Look for a spry older gentleman to tackle your hems -- they always know best.

And to top it all off, if you can't get to this store location, you can gear up for autumn at any of the other Lord & Taylor locations right near Washington D.C., in Tysons Corner, Fair Oaks, and Annapolis. So, are you ready to get dapper? See some of those clothes you could be buying in action right now: