Pop-up soups in Annie's Bistro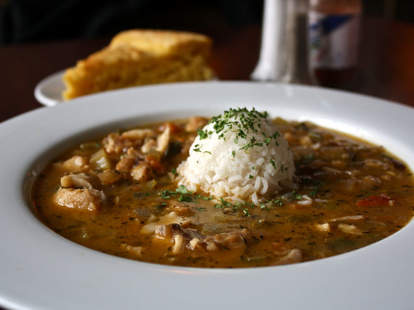 They say that idle hands are the devil's playthings, which is true, because watching Seth Green as a troubled teen with a bottle stuck in his head is exactly like being in hell. Deliciously afraid not to stay busy, Creole Soups and Such.
After recently shuttering Yats New Orleans Original Po Boys to open a full-service resto in Bayview, the owner grew impatient/poor while waiting on permits and, in the meantime, has opened CSS, a pop-up soup joint inside Annie's Bistro three days a week, which is fine, because if you eat soup more often than that, you're not even reading this because you're too busy eating soup! Amble in and peep the weekly-changing menu full o' steaming bowls of Rustic Gumbo (Gulf shrimp, chicken, and andouille sausage in a dark roux over rice), smoked sausage white bean (Navy bean done N'Awlin's style), and the creamy spinach/Herbsaint Oyster Rockefeller Soup (goodbye trans-fats, hello Standard Oil). Or opt for non-bowled action like the NO Style BBQ Shrimp in rosemary/Worcestershire/lemon/butter cream, or the candied pecan salad with port-soaked cranberries -- let them linger. You have to
Every dish comes with black skillet corn bread and liquid options include a couple of wines by the glass and Abita Amber n' Trumer Pils by the bottle -- if Seth Green walks by, you know what to do.