Farflung furnishings come home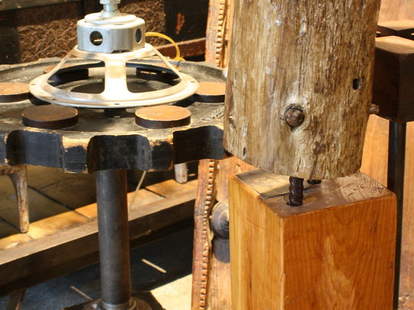 The treasures a man collects along his travels provide a fascinating map of his life, unless of course they once belonged to a murderous leprechaun, in which case they provide a terrifying map of his death. For a store stocked with a life's worth of randomly sweet found decor, Corehaus.
Corehaus' owner has thrice biked across the Himalayas and worked everywhere from deadly Bering Sea fishing boats to the timber mills of Vermont; his new shop specializes in raw, burly, and unfinished home décor, either found as-is or crafted from discarded objects, all in furtherance of a refined aggro aesthetic he calls "industrial vulgar". Standout refashioned American detritus includes "El Capitan", a wood-and-steel coat hanger made from beams and wheels from an abandoned barn; a coffee table created from a giant wooden gear and a "steam-fitting" part discovered in an old Georgia train yard; and a coat/hat/trinket holder made from steel beams plunged into both polished and raw wood "fished out of the Atlantic Ocean", titled "Silent Butler" -- as opposed to most butlers, who're just fountains of gab. Then there are more exotic pieces: a decorative wooden prayer table found in a Pakistani village ("now Taliban Central"), all kinds of wooden and ceramic bowls, a refinished, 200+ year-old dinner table, and several female torsos sculpted by a Costa Rican travel buddy out of smoothly polished wood, because absently fondling marble sculptures is so 186AD.
If you can't find what you're looking for, Corehaus'll consult with you on a commissioned piece, so long as it can be made from a found object -- unless that found object is gold, in which case...watch out for that pogo stick!