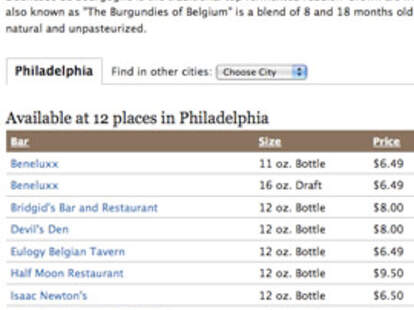 The web's brimming with resources for virtually everything in the 215, from historic walking tours, to lawyers to defend you when your walking tour becomes a "trampling toddler to get better view of USS Olympia" tour. Now providing a resource for revelry, BeerMenus.com.
Just rolled out in Philly by Manhattan brothers weary of tracking down Arrogant Bastard Ale, BM's a free database that matches citywide pubs and restos with the specific brews they serve, allowing you to go straight to places where you can arrogantly drone on about your favorite beer, bastard. Simply search or scroll through the mindbending list of 900+ brews, and BM instantly returns a rundown of applicable joints; or search by 'hood or bar to generate comprehensive lists updated daily by managers/owners, often providing greater accuracy than the bar's own printed menus -- about which you can smugly say "I used to think those were the beers they had". Included in the results are brewers' descriptions, as well as salient details like draft/bottle/both, price, and ABV, along with a handy Gmap, so you can organize a crawl focusing solely on Leffe Blondes in Old City -- cruelly, more common than natural blondes in Old City.
BM also highlights upcoming beer events, plus cross-referenced, user-submitted lists of anything beer-related, from "Bars With Over 100 Beers", to "Beers Available in Philly, but not NYC", like Russian River Damnation -- change "Russian" to "Delaware" and that'll be the name of your Court TV dramatization.