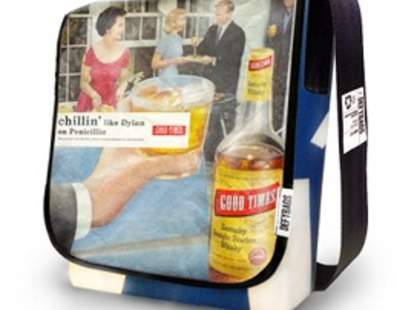 Slip into Thrillist's Best Of, a Slanket of awesomeness woven from our finest content from coast to coast.
Emailed to Chicago:Defy Bags Started by a Chi art director who saw a misprinted vinyl billboard about to be tossed and figured he could do something with it, Defy artily handcrafts messenger bags out of said discarded vinyl (with future plans to branch out into old truck tarps and whitewater rafts) and gives it a new lease on life, effectively the rockhammer to the bag's Andy Dufresne. Deliver a message everywhere you go
Emailed to New York: Lenny Dykstra's Stuff Get your grubby hands on authentic plunder from Lenny's halcyon days, including his '86 Mets World Series trophy and ring, various homer balls including his NLCS Game Three walk off, and All Star rings from '90, '94, and '95, all representing the final Nails in his financial coffin. Lenny needs to buy more dip so help him out and buy this stuff
Emailed to Atlanta: Methane Studios This ATL-based design/print company's pushing new, vintage, and reprinted limited-edition silkscreen concert posters of acts like Springsteen, DMB, and Kings of Leon, from legendary shows ranging from ATL spots like The Earl and the dearly departed Echo Lounge, to The Music Farm in Charleston; non-music prints include the 19" x 25" self-explanatory "Leaf Skull", or the 5" x 7" "Tiger Lily", with a petal-printed tiger growling at some unseen enemy -- most likely, his stylist. Class up your walls and back up your claims of "I was there!"
Emailed to Nation: Mark Mothersbaugh Rugs Since he hit the big time Whipping It, Mothersbaugh's been writing scores for successful TV and film projects like Rugrats, Pee-Wee's Playhouse, and a handful of Wes Anderson flicks, and recently channeled his inherent talents into designing a prolific for-sale collection of Devo-bizarre rugs, because you know what they say: when life gives you cultish fame, you make weird home goods. Show your floors some loving Devo-tion
Emailed to Boston: YOUgNeek From a former Wall Street derivatives trader, YgN's artist-in-chief, dabbling inventor, and "spy enthusiast" hand makes a super-secret collection of "unique products for the geek in you" including Bond-esque wearable tools and toys, specialty clocks, and housewares, all crafted from within the most clandestine, danger-fraught locale imaginable: her Randolph garage. You've been considering a career in espionage anyway