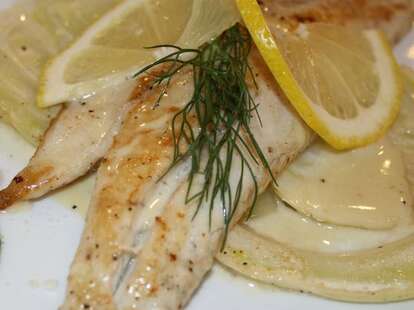 Attempts to replace a legend're generally met with skepticism, like when Disney signed Lindsay Lohan for the remake of Herbie, despite her doctors diagnosing her with a severe Love Bug. Throwing caution to the wind with a new culinary direction, Carluccio's.
A cream & brown-schemed 26-seat BYO serving rustic Italian dishes in the Italian Market storefront where Shank's & Evelyn's served legendary sandwiches for five decades, just-opened Carluccio's distanced itself from the former tenant by replacing the old-school lunch counter with a marble-topped version, installing new tile floors and a Garland stove, and removing the signature awning and Royal Crown Cola sign that hung for 40+ years like a beacon guiding you to soda that no one had seen in that long. Sandwiches include a braised short rib number w/ Gorgonzola sauce as well as one w/ prosciutto & mozzarella, while antipasti offerings comprise Scamorza Arrostita's dried roasted mozzarella topped w/ black truffles, while an assortment of Italian meats, cheeses & olives makes up the Per Due for two, as opposed to the Per Due for one so beloved by the fat. Larger plates showcase meatiness like traditional osso buco, and the arrosto di Agnello's roasted marinated lamb chops served over balsamic broccoli di rabe, fish like the lemon & fennel-topped branzino al Finocchio, and pastas that include gnocchi alla Sorrentino baked in a terracotta bowl, and the Pappardelle al Funghi Porcini, which is delicious, despite never really catching on with the kids like the Funghi Chicken.
Carluccio's also offers a selection of traditional Italian desserts, including tiramisu, panna cotta, and a mela tart puff pastry stuffed with apples and nuts -- the very activity that got a Fully Loaded Lohan onto antibiotics.