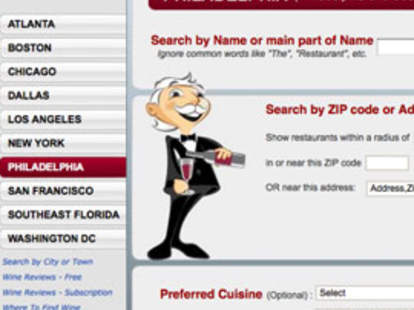 The notion of guzzling several markup-free bottles of wine over dinner is so enticing, it's easy to pick the nearest BYO and rush out your door half-corked. Get the lay of the land, with GoBYO.com.
Launching today, this free Philly-based DiningInfo.com offshoot is a staggeringly comprehensive, fully interactive breakdown of BYO options at 1,200+ area restaurants, letting you approach easy-drinking with a particularity comparable to the "Dwarves ok / no Midgets" option on Casual Encounters. Plug in a ZIP or address and choose a radius (.2 to 30 miles), then whittle down the list by policies (corkage fees, credit card friendly), cuisine type/price range, and 40 specific features from available parking, wi-fi, and outdoor seating, to "Romantic Atmosphere" and "Pet-Friendly" (pervily, these aren't mutually exclusive). Hardly BYO-purists, the site features hundreds of spots that stock booze but also allow outside wine, though often with restrictions like requiring that your bottle's not available on their menu, or charging -- bring some T-bird into Eric Ripert's 10 Arts, and he'll hit you with $40 corkage despite your going with a screw-top.
If you're in a hurry, GoBYO also offers a quick-reading "Wine-Friendly Rating System" of the best vino-junkie spots, and quick access to GMapped directions -- just pause long enough to make sure you don't rush out with your cork waving in the wind.