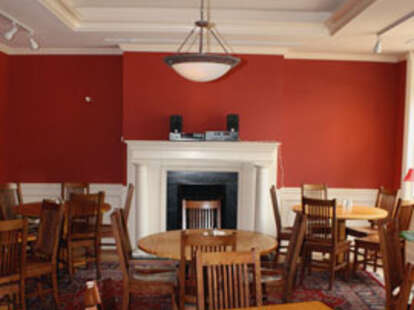 While campaigning, politicians ceaselessly promise to revitalize neighborhoods by attracting new tenants to fill abandoned storefronts -- only to make their first official act to close their campaign offices and create more abandoned storefronts. Filling the void, Gold Standard Café
Taking over the Baltimore Ave island office that housed an Obama canvassing HQ, the former Abbraccio owners have created a two-room hideout offering breakfast and lunch in a cozy, green/mustard schemed, mostly counter-service & sidewalk seating front room, and dinner in an adjacent 40-seat deep red/cream-toned dining room complete with new oak floors, a pair of oriental rugs, and a columned fireplace that runs on gas, reducing the temptation to burn the new oak floors. Breakfast includes Four Worlds bagels and croissants, house-made scones, smoked salmon, and "Breakfast Cups" like the "Savory Egg" (tortilla/black bean/salsa/cheddar) and a waffle version with scrambled eggs and syrup; for lunch, there're Parmesan chicken wings, burgers, and sandwiches from Chinese roast pork, to marinated flank steak, to the veggie-heavy pan bagna -- a name almost as cool as not having meat isn't. The Wed-Sun dinner menu'll change monthly, with current offerings including grilled rack of lamb in mint yogurt, parchment-baked pesto salmon, grilled tuna w/tomato relish and brown-sugared shallots, and meatloaf wrapped in bacon -- like a present with a ribbon around it. A delicious ribbon of death.
A full catering menu's also available, covering party trays and "Box Lunch" options offering everything from marinated chicken to hoagies -- and if anyone says you can't survive on hoagies alone, tell them "Yes, me can".