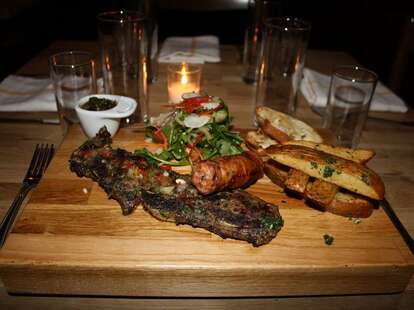 Some people are made for the city, and others aren't, despite the fact that children think this only applies to mice. From a husband/wife pair who yearned to return to city life after years down the shore, Hoof + Fin.
Seeing the For Sale sign recently gracing Gayle's window as an opportunity to return to city livin', the owners of a pair of Stone Harbor restos cut their NJ holdings in half and executed a whirlwind makeover to recast the Queen Village spot as a cozy, rustic 35-seat BYO with dark wood, butchers block tables, exposed dangling Edison bulbs, and walls lined w/ paintings of lighthouses and other shore-referencing tchotchkes, just like your "I Heart The Situation" booty shorts. A raw selection includes seasonal oysters and a pair of ceviches, while apps run from clam chowder to calamari tempura, and entrees include meatiness like country fried steak w/ buttermilk potato mash, and a beluga lentil stew w/ slow roasted pork shoulder & smoked chorizo, plus sea-borne grub like fish & chips and pan-roasted skate wing, also the section of Apolo Ohno's house brimming with clappers. "From The Grill" selections let you add your choice of starch/vegetable sides to a range of dishes including yellowfin tuna, mahi mahi, and U10 scallops, plus meat-eats like a 12oz bone-in ribeye, slow grilled lamb shoulder, short ribs, or costilla, which'll costyoua $17.
Because the government's triangles say man can't live on meat & fish alone, H+F also offers a limited selection of pastas (available as small or big plates), including ricotta-style gnocchi w/ truffle brown butter, capers & shaved Grana Padano, and pappardelle w/ Malbec braised short ribs in puttanesca, aka, the "Whore's Sauce" and if your children understand that, you'd better ship them off to the country.