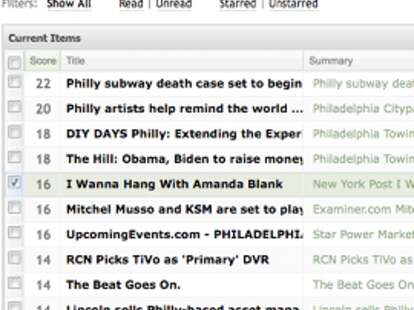 Nothing beats having someone else do all the legwork, like your sister inviting her sorority friends home for the holidays, or accepting Michael Flatley's lifetime achievement award for him, and keeping it. Get all the online content you're seeking sans effort, with Parse.ly.
Developed in conjunction with Philly-based DreamIt Ventures, in-beta Parse.ly continuously delivers exactly what you want from the web, by searching for your selected topics, filtering out the junk, and delivering prioritized results directly to you, leaving you free to search for other things, like Bobby Fischer. To get started, simply punch in, then drag and drop at least 10 search keywords into ranked interest levels from "Somewhat" to "Most", and Parse.ly'll scour 50,000+ sources, from mainstream newspapers/magazines, to syndicated news wire services, to blogs, and return a tailored collection of links and summaries with results listed in order of priority/relevance, determined by how closely the content correlates with your search terms and where they rank on your interest level scale, which you wouldn't dare stand on after the holidays. Once your results filter into the inbox-style interface, just read the abstract descrip, and if you dig it, click through to the source page; you can then use their tools to star, archive, delete, place in a "read later" folder, etc., actions that Parse.ly continuously tracks to learn your likes/dislikes, as it's "trained" over time to optimize your searches and even suggest new topics and interests, although unfortunately those of the "love" variety are still your problem.
Parse.ly also allows easy sharing of links through email, Facebook, Twitter, etc., and they're currently soliciting feedback from beta users to determine what additional options they'll offer as they move forward, which you'll be able to contribute to, provided that's not Flatley kicking in your door right now.