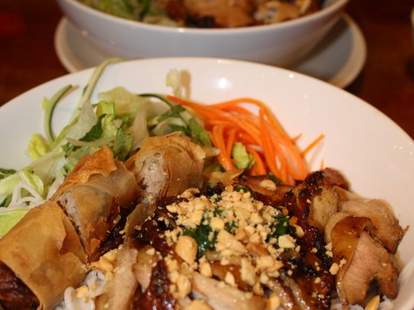 Sticking with the group's a safe strategy, but breaking away from the pack can pay off in spades, and a $25M contract with the Vikings despite being incredibly old. For a Pho joint leaving the Asian food nest on Washington Ave, hit Pho Saigon
The first venture from a Vietnamese immigrant who spent countless hours sampling cuisine, observing practices, and soaking up atmosphere at nearly every noodle house shoehorned into Washington Ave's "Little Asia", Saigon's set up shop eastward, doling out 50+ takes on traditional SE Asian rice/noodle dishes in a high-ceilinged, wood/cream-schemed 100-seater set in a shopping center double storefront on Columbus Blvd, which you still call Delaware Ave, just for the excitement of saying "Hey. We're on Delaware". Saigon's offering up an appetizing range of crispy rolls, like ground/shredded/BBQ pork and a summer number w/ shrimp & pork or chicken, followed by vermicelli dishes packed w/ everything from shrimp wrap & sugarcane to pork skin & grilled chicken, as well as eight noodle soups like Hoac Mi Bo Kho (a rice or egg noodle take on beef stew) and a beef noodle stew done Hue style called Bun Bo, which was basically unfair to use in Tecmo Bowl it was so good. They've also got ten Com Tam plates of broken rice served w/ everything from BBQ chicken, to egg quiche/omelet, to shredded pork; pho-wise, Saigon's slingin' 20 takes on the traditional beef noodle soup, including the brisket-laden Tai Gau, Nam Gan w/ beef flank & tendon, Tai Sach, w/ tripe and rare steak, and Bo Vien w/ beef balls -- because sometimes you feel like a nut, and sometimes, you feel like a soup full of them.
Saigon's also pouring a range of Giai Khat (drinks) like pearl milk iced tea, Sinh To fruit shakes in exotic flavors like Sour Sop Tar, Jack Fruit, and Mung Bean & Pennyworth -- also an act old man Favre missed on that classy Vikings boat by a few years.