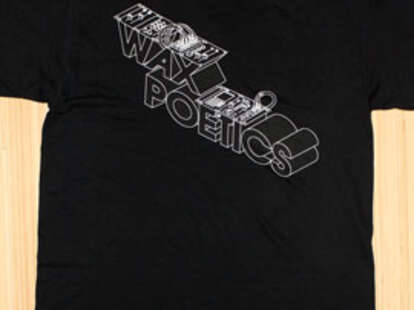 Vagabonds have a reputation as shiftless creatures who carry nothing but the clothes on their back as they roam from place to place, grifting for cash, to purchase the merriment that'll further befoul his clothes. For a vagabond actually selling those clothes, hit Pr3tty Vacant.
Noting that the trend of indie streetwear shops going bust had led to an increase in both vacant storefronts and overstock, guerrilla marketer Sam Ewen scooped up discounted rates on both to create a traveling discount-gear pop-up, the first stop being a South St storefront where he'll stay for two months, before remorselessly re-abandoning it. The current, tee-heavy stock (mostly ~$15) includes Recon's English Premier League-inspired line, and their offshoot line Subware, with one shirt rocking instructions on how to craft a paper model of Sub's "Flying Ess" logo that actually flies, much like the shirt itself will next time you're at a Tom Jones concert. Meanwhile, Wax Poetics represents with "Audio In" (mixer board atop logo) and "Polyrhythm" (text of hundreds of music styles in the shape of Africa), while Royal Filth offers up "Guerrilla Warfare" (camo'd gorilla hoisting AK-47) and another with hands in prayer over dangling kicks and the mantra, "Please Lord Let There Be My Size" -- as if God gives a crap about your 6 1/2 wides.
Future stock will be determined by customer feedback, as well as requests sent via Twitter, while the next location's as uncertain as the provenance of those dark stains on your pants.