SoCal Beach Adventure at Shade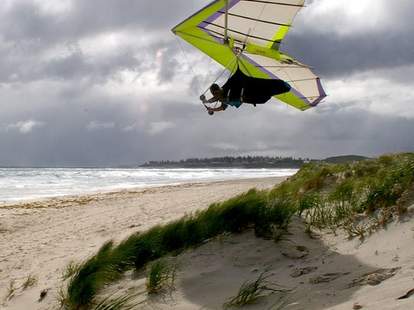 A relaxing vacation sitting on the beach and sipping beers can be great, until you casually glance at a passing hot chick in a bikini, and your girlfriend squirts you with a lime, leaving you no choice but to plant meat in her purse, and let her be chased down by feral dogs. Play it safe and do something a little more active on your trip, with a Southern California Beach Adventure at Shade.
Cutting a sweet deal for Thrillist readers sick of a life of wind and ice, SoCal's Shade resort offers a trio of sporty packages, complete with two nights of luxury lodging, comp'd breakfasts, and personal sessions with professional instructors/athletes in the warm, sunny climes of Manhattan Beach, which is blessedly devoid of Yankee fans. Shade's signature spa rooms come with exotic wood trim & paneling, a balcony, a pro-level cocktail setup, a shoji-screened Sanijet spa tub, beach bikes to tool around on, and a king size Tempur-Pedic bed to provide the real fun of the trip: jumping up and down like a maniac without even the thought of spilling that glass of red wine you left on it. The three activity packages: beach volleyball with personal instruction from an AVP pro, hang-gliding training finishing off with your own solo flights launched from sand dune peaks, or surfing, which nets you schooling from a wave-vet California girl, who wishes they all could be as bad as you, so she could be totally loaded.
In addition, Shade's also put together a food & wine package, with a three-night spa room stay supplemented by a tour of area wineries and special discounts at local eateries at which to order the porterhouse for two: half for you, half just in case.