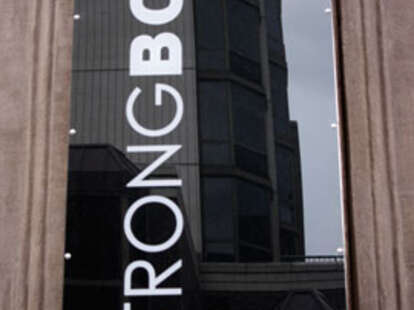 Even in the direst times, there are certain things you can't give up, like cable television, and visits to the dentist because of all the Swedish Fish consumed while watching cable television. If you stubbornly refuse to give up bottle service, hit up Strongbox.
With Strongbox, the Denim/Pearl guys have converted the former Monkey Bar into a plum-hued bottle-service lounge, luxing things up while maintaining the centuries-old space's integrity: black leather banquettes, a granite-topped bar, and a backlit, metallic booze wall, paired off against refinished parquet floors (w/ antique heat registers) and high-gloss black paint to enhance the intricate ceiling designs and sharply contrast the cylindrical chandeliers. While cocktails flow at the front bar, the joint's centered around seven wood-based, steel-legged cubical tables with inset lighting glowing through plexiglass tops, where "personal attendants" provide ice/mixers/fresh fruit to complement top-shelf liquor and champagne (Perrier-Jouët, Moët White Star, Dom...) available by the 750ml, magnum, jeroboam, or Methuselah -- who in Leviticus 3:12 credited his 969-year lifespan to six liters of bubbly daily. For mood-setting, there's an elevated, ladder-accessed DJ booth whose Serato Live setup's connected to 10 speakers that'll pump out sounds from rotating DJs, including Adam Bomb and SAT-ONE from Skratch Makaniks, Netto, and KC, whose Sunshine Band bailed on him to star with Alan Arkin in a poignant tale of family and redemption.
A semi-private, chandeliered back room's available for reservation, perched slightly above the rest of the lounge, with a window-sized gap in the front wall that perfectly frames a view of the spot's clientele -- just like TV, except there's no Swedish Fish service.