Naming a business venture after a movie you think shares its theme isn't always a wise move, as evidenced by your totally ill-conceived Sisterhood of the Traveling Pants Gentlemen's Club. Unless it's a bar Steve McQueen would wanna hang out in, like Bullitt.

The dudes behind Tonic've opened a decidedly masculine watering hole-cum-burger bar called Bullitt after SF's famed McQueen action flick, and done it up with a long, Edison bulbed sheet metal bar, and classy wood paneling, giving it a subtly cool vibe, like Stevie McQ, or tepid bathwater when it's time to get out. While the cocktail list's still in the works (it'll be all post-Prohibition era numbers named for fictional cops, e.g., Drebin, Ponch, etc.), Bullitt's legitimately the only bar in town with Fernet and Maker's on tap, plus they're pourin' 12 draft/bottled beers including Chimay, Hoegaarden, and OE 40s that're served in a paper bag with a condom, an ironic twist for the ironic guy holding the ironic drink, who nobody wants to sleep with. Burger-wise, choose either a half lb of ground prime cut Angus or grade A bison, before choosing your style, which can be anything from the Cool Hand Luke (Swiss, prosciutto, fried egg, grilled onions), to the sauteed jalapeno/habanero sauce/Tapatio-slathered Charles Manson -- Helter Skelter appears imminent, in your stomach.

Wait, there's more: above the main floor lies a private party room that you can book on-the-cheap for up to 30 revelers. It has its own bar, and next week they're installing a stripper pole, so quick, tell your boys Lena, Tibby, Carmen, and Girl From Gossip Girl.
Recommended Video
The Definitive Eggnog Recipe You Need for the Holidays
Previous Venue
Next Venue
Venue Description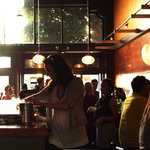 1. Bullitt
2209 Polk St, San Francisco, CA 94109
Bullitt's got a finely designed interior to match the retro coolness of the Steve McQueen flick it was named after. Sporting a sheet metal bar with low-hanging Edison bulbs and fine wood paneling, this Russian Hill district favorite's got and endless supply of bottled beer and food just as laid-back as the crowd who frequent it with a small selection of bar bites ideal for hardcore cheese-lovers. From the thick beef burgers, to the nachos, to the widely beloved tater tots, everything's covered head to toe in the stuff.