Modern Cali cuisine in the Tenderloin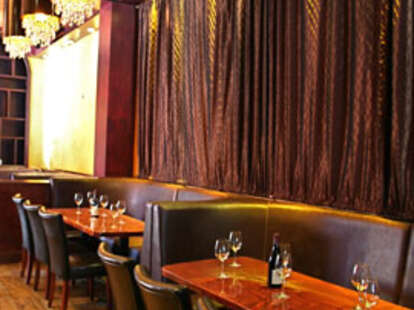 Questing after the Holy Grail was a fine idea in theory, but eventually most knights lost interest after discovering that, even without the Jesus-endorsed cup, wine still tastes great. Coming to that same besotted conclusion, Midpoint.Opened in the former O'Reilly's Holy Grail, Midpoint's tossed out the former tenant's overbearing Gothic-ness (stained glass, ironwork, etc) for a classily rustic motif: polished redwood tables lit up by ballroom-esque chandeliers, with several grottoes curtained off for private dining/admitting to your parents that you've become a ballroom dancer. As for lunch & dinner, an ex-Postrio chef's upped the ante from the Grail's stews and shepherd's pies, to modern Cali cuisine like quail over jalapeno & cilantro risotto, hoisin & honey-glazed baby back ribs, herb-grilled salmon over sun-dried tomato/fennel/mushroom couscous, and cherry-pinot noir Porterhouse w/ Yukon potato "coins" (for when you run out of drawings of spiders to pay people with). The Grail's massive mahogany bar has survived, and now slings 50+ Cali/French wines (by the bottle, $20-$100), 13 worldly taps from Trumer to Guinness to Blue Moon, and classic cocktails, which under the new owners no longer means the "Chaucer-tini"
Though they're serving now, Midpoint's grand opening party is Thursday, with discounted prix fixe dinners and half-price drafts and wells. Guests are asked (but not required) to wear their favorite hat, and if yours is judged the finest, a free meal's on the resto -- otherwise, be prepared for a withered old man to proclaim "He chose poorly".